Colonel Book Bundle: The Objective Truth
Nicholls State University's new implementation of the Colonel Book Bundle service has raised many questions and student concerns; however, Director of Auxiliary Services Margo Badeaux is here to put all nerves at ease as she explains how this service can only benefit, not hinder students.
In overview, the Colonel Book Bundle is system by which students will be automatically enrolled into a program at a cost of $25 per credit hour. For example, a 12-hour course load will incur students a cost of $300. The charges will be made to students' Banner accounts. The book ordering process is done automatically by computer based on the classes in which a student is enrolled for the semester.
30 days before classes begin, students will receive an email via school account asking for a conformation of the order. Once the order is confirmed, shipping and pick-up information will be sent out. The students will receive one more email notifying them that the books have been delivered.
Book return (because this is a renting system) will be conducted leading up to final exams—the last day of exams being the deadline for return.
"This program is for the students; it is purely beneficial," Badeaux said.
She explained that through research, it was found out that students can spend anywhere between $500 and $700 on books in one semester. With the institution of the Book Bundle, a student with maximum credit hours (18 hours) would only have to pay $450 for all his/her course material.
"We do realize that this may not always be the best option for a student, which is why students have the ability to opt-out. However, I cannot stress enough the importance of students really doing their research before choosing this because once out, they cannot get back in," Badeaux said.
Badeaux said that some students may only be required to have two textbooks between four or five classes, which may make students want to opt-out prematurely because they see no need to pay for classes that do not require books. She went on to say that while this may seem—in that one instance—the best option, it may not be. For example, textbook one may cost $250, and textbook two may cost $150. If the student has a 12-hour course load and pays for the bundle, he/she would only have to spend $300 total compared to the $400 that the books would cost if purchased from a different source.
In the same breath, though, Badeaux explained that opting out may be better for a student if the cost of a single book is less than what the cost of staying in the bundle would be. For example, a student may only need one $170 textbook between the 12-hour course load, which means that he/she should opt-out because the alternative would cost $300.
"My biggest concern is that students will see a number and added fee and immediately opt-out because they don't want to pay it," Badeaux said. "My hope, though, is that the students will really investigate and see the money that the program will be saving them."
Another thing to keep in mind is that some materials are available under Open Educational Resources (OER) or Affordable Educational Resources (AER). These two programs offer materials at a reduced or sometimes no cost to students, but the Colonel Book Bundle website offers cost comparisons of individual classes using these programs with the Colonel Book Bundle prices to help students further decide whether the Bundle is the right option.
One question that came up was why the program is opt-out instead of opt-in.
"The program is opt-out because it allows the bookstore to prepare for a maximum inventory," Badeuax said. "This way, we can be sure that there are enough books for students by the first day of classes; whereas, if the program was opt-in and students waited until the last minute to opt-in, we may not have had enough inventory."
Badeaux said she understands why students may be weary at first, but she wants to remind students that her team has been investigating this option for a year now, and it is not a trick, and it is not mandatory. It is a case-by-case basis where students have full control over whether they participate or not.
"I cannot encourage students enough to do their research because we have, and we realize what a big saving it is for the students," Badeaux said. "We want the students to be able to save as much money as possible, which is exactly why we are doing this"
Badeaux also wants students to know that she, along with the rest of the bookstore team, would be more than happy to answer any questions students may have.
Frequently asked questions and more information can be found on the Colonel Book Bundle webpage nicholls.edu/colonelbookbundle.
Leave a Comment
About the Contributor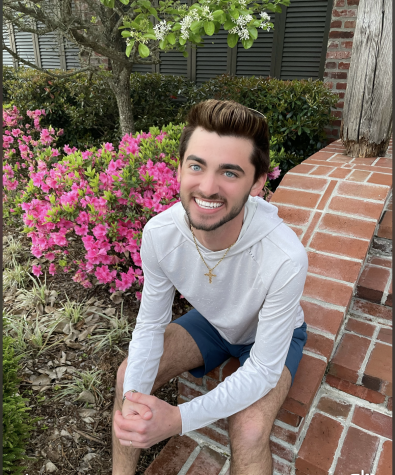 Brennan Arcement, Editor-in-Chief
Dear students,

What a whirlwind of a time we have had these past few months! Just as it seemed that the COVID reign of terror was drawing to a close,...