In 2021, Nicholls State University became affiliated with Keep Louisiana Beautiful–a committee centered on environmental sustainability.
This brought about the establishment of Keep Nicholls Beautiful, which partners with the Green Club student organization.
They both work with the Barataria-Terrebonne National Estuary Program (BTNEP) to host beautification efforts in and outside of campus.
They also provide learning opportunities for students and promote anti-littering, recycling and waste reduction.
Dr. Mary Jackson, the Keep Nicholls Beautiful Chair, said, "We've got a lot done over the last years; we've had more beautification efforts than I realized."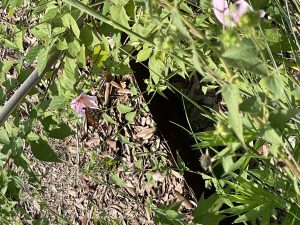 One of the oldest projects for Keep Nicholls Beautiful is planting gulf muhlies, gulf cordgrasses, saltmarsh mallows and wooly rose-mallows along Bayou Lafourche. These plants attract native insects such as the gulf fritillary butterfly.
"It's really important that we use native plants," Jackson said. "The native plants support the native insects,which are necessary for the whole food chain."
This year, Keep Nicholls Beautiful has received a grant that will allow them to place two more recycling bins around campus as well as informational signage.
The group is also looking to plant 75 trees in honor of the university's anniversary.
In addition, the committee has installed water bottle refilling stations on campus, and they recycled cardboard boxes during move-in-day for the fall semester.
The Nicholls Green Club reaches out to students and allows them to be engaged with campus sustainability.
The club has hosted tables where students could receive information about sustainability and pollution through trivia activities.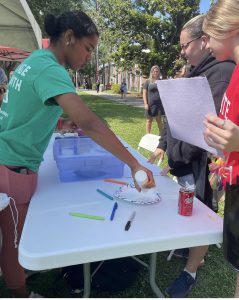 It has also promoted recycling through a Stress Less Fest activity–using recycled paper for a crafts project.
"I think our biggest success was the recycled paper event," said Faith Boutte, a senior biology major and the active president of the Green Club. "We got a lot of new members from it."
Boutte is extremely passionate about keeping the campus beautiful. She agrees that students should be more aware about how and what to recycle on campus and that informational signage–especially in the cafeteria–can help with that.
"A lot of people don't always recycle in their dorms," Boutte said, "but if they have a place to come while they're eating in the cafeteria, that can help them and it would also educate them every day."
She would like to see more change within the dining services at the Galliano Dining Hall. She suggested that, instead of using styrofoam and plastic, there ought to be more biodegradable utensils such as wooden forks and spoons and brown paper plates.
In spite of this, Boutte said, "Nicholls staff is doing a great job of trying to figure out where they are creating food waste and how they can minimize it."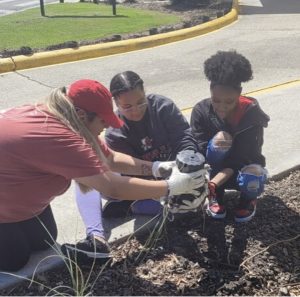 Earlier in the fall semester, cafeteria workers stood at tables by the garbage disposal and dumped leftover food into bins, which were weighed to determine how much food was leftover.
According to Boutte, this was an effort to see if any of the waste could be used for composting, though they would not be able to execute this plan because of the small number of staff members.
Boutte also had the idea of allowing students to assist grounds-workers in landscaping and cleaning up the campus.
Because of the small number of workers, Boutte thinks that having students from different clubs volunteer their time can increase productivity when it comes to landscaping and keeping the campus updated.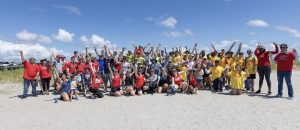 Boutte and Jackson have spoken about turning Keep Nicholls Beautiful into the official Office of Sustainability for the campus.
"That would be a beautiful dream to do," Boutte said, "but that's going to take time. […] I'm excited to lay the groundwork for whoever is going to be able to do that."
Boutte and Jackson encourage students to play an active role in keeping Nicholls sustainable. Whether it is by joining the Green Club, recycling old notes and plastic water bottles, going thrifting instead of investing in "fast-fashion," or shopping at farmer's markets, students can help make a difference for their campus one small step at a time.