Enola Holmes: Movie Review
Milly Bobby Brown stars in the new Sherlock Holmes spin-off directed by Harry Bradbeer. It was  adopted from the book series by Nancy Springer, Enola Holmes. The film centers around the story of Enola, the younger sister Mycroft (Sam Clafin) and Sherlock Holmes (Henry Cavil). 
Enola was raised by her mother Eudoria (Helena Bonham Carter). After the father's death, Eudoria begins to teach Enola martial arts, literature and strategy games which defies what a typical Victorian Age woman should be.This leads to Enola developing a modern way of thinking.
When Enola's mother disappears one night without explanations, Mycroft and Sherlock are called back home to attend to their mother's disappearance. Mycroft is outraged by the way Enola has been raised, so he takes it upon himself to send her to a finishing school where she will learn to be a proper wife. Enola then decides to run away from home to find her mother on her own. 
While on her quest, Enola encounters a series of different obstacles. One being her encounter with run-away Viscount Lord Tewksbury (Louis Patridge). Enola seems to think that he is a nincompoop. A clueless boy with a love for flowers and vegetation which makes him her complete opposite. Eventually, Enola is compelled to help Tewksbury after she finds out somebody has been sent to kill him, and she quickly grows fond of him.
The last line of the movie is "My life is my own, and the future is up to us." The overall message that the film draws from Enola's story is that we are in charge of our own future. 
It also uplifts some ideas of feminism. It is encouraging women to take control of their own lives without overdoing it, definitely making the "girl power" stand out. The soundtrack produced by Daniel Pemberton adds the perfect mood to every scene. 
Hopefully, we will be getting more Enola Holmes movies on Netflix since the film has an open-ended closing scene and there are six books to this series. 
Something that is interesting to point out is that Arthur Conan Doyle's estate filed a lawsuit against Netflix because they portrayed Sherlock as a more human character. Sherlock Holmes has always been shown as a very rigid type of detective. Even though Sherlock plays a small role in this series, he is presented as a friendlier version of himself, allowing his character to be led by emotions.
Leave a Comment
About the Contributor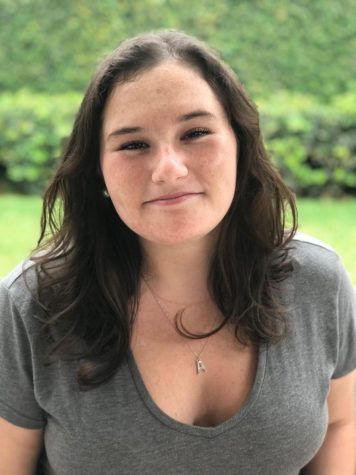 Alexia Castellon, Print Managing Editor
My name is Alexia Castellon. I'm a Mass Communication senior with a concentration in PR. I was born and raised in Nicaragua, and I am fluent in Spanish...