Superbowl Winners and Losers
Winners:
Electric Vehicles (EVs):
Three commercials focused on electric vehicles during the game, and all four took a comedic route.
Celebrities:
Like every year in recent memory, celebrities won. Super Bowl commercials often include celebrities who are paid out a hefty sum of money for their appearance. This year the celebrities who made an appearance were mostly those past their prime like Will Ferrel, John Travolta and "Clueless" actress Alicia Silverstone.
Donna Kelce:
The mom of the NFL's most-popular brothers, Jason and Travis Kelce, knew that one of her boys would take home the Lombardi Trophy and make her proud, if she was not already. Donna Kelce also took center stage in the week leading up to the Super Bowl as she brought cookies to her sons at the Super Bowl Experience.
Patrick Mahomes:
It feels as though the star quarterback for the Kansas City Chiefs wins even when he loses, but last night he won. Mahomes won his second MVP award and second Super Bowl in the same year at age 27, making him one of the youngest to do so.
Losers:
Burger King:
The fast food giant did not have a single commercial in the Super Bowl. After months of memes about their inappropriately timed commercials, the King rode the bench in the Super Bowl.
Football Fans:
The game was close the entire second half, with the score tied in the final two minutes, but a holding call with under 1:50 remaining would rob fans of a good ending. Instead of the Eagles getting the ball back with 1:40 remaining, the Chiefs ran the clock down before kicking the game-winning field goal with eight seconds remaining, leaving the Eagles only one play —which was an incomplete pass— as time expired.
The city of Philadelphia:
Before kick-off a video surfaced from the streets of Philadelphia showing a car flipped upside down. A win or loss would have destroyed the city, but who knew the pregame show could do the same?
Rihanna and music fans:
This year's halftime show was underwhelming as Rihanna "returned," according to commercials that described the event. The superstar sang many of her hits, but failed to complete any of her songs or bring out a guest. Though the Super Bowl is a huge deal, the real big news for Rihanna came about a half hour later, as it was announced that the performer was pregnant with her second child.
Leave a Comment
About the Contributor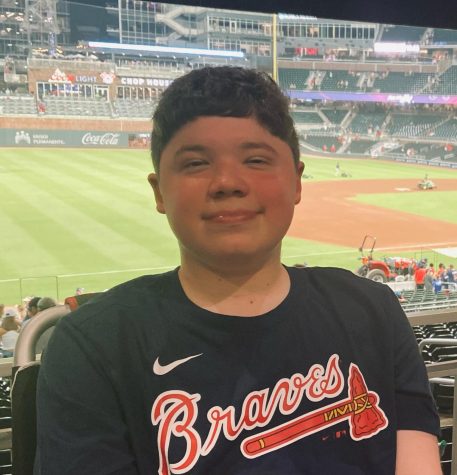 Brogan Burns, Sports Editor
I'm a Mass Communications major and a huge Saints fan. I'm from Chalmette, and I haven't seen my dog in a month.

Fun Fact: I've listened to the...