Mothers Against Drunk Driving Visits Nicholls
With the deaths of students from Nicholls State University last semester, speakers from Mothers Against Drunk Driving (MADD) spoke to Nicholls about the dangers of driving drunk.
On Feb 17., the fraternity Sigma Alpha Epsilon (SAE) invited MADD Victims Services Specialist Kelley Dair and volunteer Ava Fontenot to share stories and speak about the effects of drunk driving. 
"Our mission is to end drunk driving, fight drunk driving, support the victims of these violent crimes, and prevent underaged drinking," Dair opened with.
Dair went on to mention that annually, 11,000 people are killed by drunk driving, and 300,000 people are injured by drunk driving. 
Ava Fontenot then came forward to tell her story. 
Ava has been volunteering for MADD for close to 10 years. She teaches drunk driving classes to students and first-time offenders in Terrebonne, Lafourche, and Orleans parishes. 
"The reason that I do those classes is because if I can reach just one person in each one of those classes that I do, then that means I have saved one more family from going through what my family goes through daily," Ava said.
In 2010, Ava's son Lindsey Fontenot and his friend Raymond Bourg were hit and killed by a drunk driver. They were coming home from Last Call in Thibodaux when the driver hit them, killing them on impact. 
Lindsey was a hard worker. He loved his job, though it took him away from his family a bit, and consistently had a project he was working on. Ava talked about how Lindsey always had to have something to do. 
Lindsey was engaged to Jessica, his partner of ten years. They were living together in a small house at the time, though, they were going to build a bigger house when they had the funds. 
Lindsey loved his friends and family. He would host crawfish parties year-round to spend time with friends. He would attend every family gathering when he was able to and would always try to make people laugh. 
On that night in 2010, everything changed for the Fontenot family. 
When Raymond first called Lindsey about going to the bar that night, Lindsey told Raymod that he needed to save money, so he didn't want to go to the bar. The second time Raymond called and asked, Lindsey decided to go out with his friend. 
"When Lindsey and his friend went out to drink, usually one of them was the designated driver." Ava said, "But that night, they both chose not to drink." 
The two men only drank coke while at the bar. They were hanging out with their friends until about two in the morning when they decided to leave. 
They were hit on Highway 24 only eight minutes after they left the bar. The impact of the crash was so powerful that the car that hit the men ended up backward inside a house. The truck that Lindsey and Raymond were in was thrown into a ditch. 
Ava first heard about the crash from a friend of her daughter. Ava didn't believe what the friend was saying. 
"You have the wrong person," Ava had told the friend on the phone. "Tell me where you are, and I will get there and fix this." 
Ava finally realized what had happened was real when the officer told her they knew it was Lindsey's body from his driver's license. After that, she didn't want to leave the scene. 
"That's where Lindsey took his last breath, and I didn't want to be anywhere else," Ava said.
The coroner tried to comfort Ava later on by telling her that Lindsey died on impact and never knew what hit him. 
When Ava was finally able to see Lindsey, she said all she saw at first was a small brush burn over his eye. As she got a closer look, though, she saw blood in his ears and a crack from the back of his ear around his neck. The other two had much more gruesome injuries. 
"I remember I put my hands on his face, and it felt so cold," Ava cried. "I thought that if I could just warm him up he would be alright." 
Lindsey and Raymond's bodies are buried together. Neither family wanted to separate the two friends even after their death. 
Kelley Dair ended the presentation with a moment of silence for the students that Nicholls has lost due to drunk driving. 
Leave a Comment
About the Contributor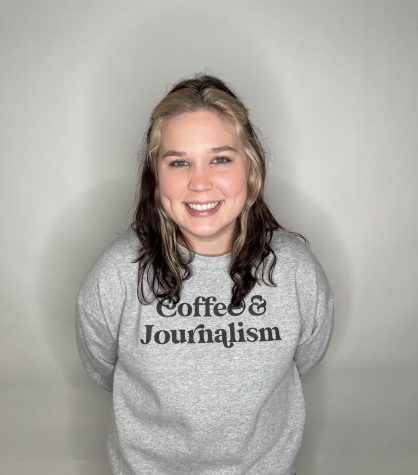 Sally-Anne Torres, Online & Print Managing Editor
My name is Sally-Anne Torres. I'm a junior at Nicholls State studying journalism. I have had a love for informing people about what is happening in the...