Lucifer Season 5: What to Expect
**Warning: major spoilers ahead**
The return of one of the most acclaimed TV shows of 2019 is in order. Lucifer returns with the first part of what will be a two-part season five. The first part will be aired exclusively on Netflix on Aug. 21. 
Netflix has done a great deal of keeping the fans up to date with teaser trailers and pictures from the set. We believe that the first part will consist of nine episodes. Joe Henderson mentioned in a tweet, "Just finished the table read for episode 509 of #Lucifer I am so lucky to work with these incredible actors. I cried multiple times during the read and… Well, I am right now thinking about it. This episode is very personal to me, and just… Wow. Grateful." 
From the looks of it, episode nine will be a tearjerker. 
In the last episode of season four, we see a heavyhearted Lucifer return home, as hell is now spilling into Los Angeles and he must return to put things in place. Chloe has also spent these past four seasons denying Lucifer's demonic side, until she finally comes to peace with it, and in the last minutes she confesses her love for him. 
From what we know based on the trailer, Lucifer will remain in hell for the most part in this first part, however a new character has been added to the series. Following the theme of the appearance of angels on earth, Michael, his twin brother will get a taste of a human-filled life as well as a life next to the detective. 
At the beginning of the trailer, Chloe mentions that since his return, Lucifer has been acting strange and that is because he clearly is not himself. However, at the end of the trailer we see the two brothers battling against each other over the fact that Michael has been impersonating Lucifer this whole time. 
Even though the writers announced that they have concluded all episodes for the series, only season 5A has been filmed. The coronavirus outbreak has delayed the filming for Lucifer season 5B and a release date is yet to be set. In the midst of bad news, however, Lucifer has been renewed for another season. The writers have also shared that season six will be the final season of the show.
Leave a Comment
About the Contributor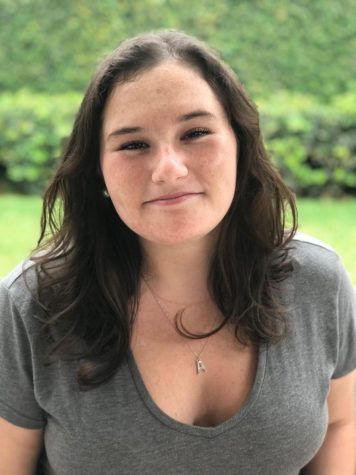 Alexia Castellon, Print Managing Editor
My name is Alexia Castellon. I'm a Mass Communication senior with a concentration in PR. I was born and raised in Nicaragua, and I am fluent in Spanish...