Students feel building name changes are a first step in showing diversity
On June 2, Nicholls State University President Jay Clune sent an email stating that the Beauregard and Polk building names and street names on campus would be changed.
Clune stated in the email that temporary names for the buildings would be "College of Sciences and Technology" for Beauregard, and "College of Educational and Behavioral Sciences" for Polk.
Chief Diversity and Inclusion Officer, Steven Kenney, said it is the internal street names changing on campus. Audubon and LA HWY 1 will be staying the same because they are city and state-controlled streets. He also said the current building and street name changes are only temporary. 
"While we have taken signage down, everything right now is temporary to remove the names that were up there and there will be an initiative that brings together a group of faculty, staff, students and community together to come up with permanent names and solutions," Kenney said. 
Kenney said the discussion about building and street names has been going for years now, and the Diversity and Inclusion Task Force in 2018, brought the discussion of the names to the forefront. He said the group did research going out and getting feedback from people over a span of about ten months. 
"In April of 2019 is when the group presented or provided the first outline of the feedback that they received. In that outline that was published, there was 61 or 62 action items that had been gathered from all those groups and one of the items that was on that list was visiting the names of the streets and the names of some of the buildings on campus, because of their ties with segregation, racism, plantation," Kenney said. 
Kenney said the recommendation of the building and street name changes came from some of the student organizations. Kenney said this decision might seem like it was sudden, but it had been discussed over the past year. He said the decision was made due to the unrest in the nation.
Kenney said the signs were taken down and replaced in front of Beauregard and Polk, even though the names have not been changed yet, so the visual reminder would not be there. 
"I think that's important. There is a lot of unrest specifically around diversity and inclusion specifically with people of color, the Black Lives Matter movement. We wanted to take swift action to ensure there was one less visual reminder," Kenney said. 
President of the Nicholls National Association for the Advancement of Colored People (NAACP), Cydnee Mills said she thinks changing the names of the buildings and streets is a big step in the right direction for Nicholls. 
Black Women Leadership Association (BWLA) President, Iriel Nunnery, and Black Student Union (BSU) President, Kayla Freemon, both said the name changes are long overdue. 
"I think that the name changes on the buildings are long overdue, but we are still grateful that Nicholls is finally taking action to change these building names. We just wish it wouldn't have taken for the situation we're in now for it to actually be done," Freemon said. 
Kenney said there was a group of students put together at the beginning of the spring semester to discuss the name changes. He said the group is still going forward, even though it was halted due to Covid-19.
Kenney said in the spring he met with the leaders of the Student Government Association (SGA), Student Programming Association (SPA) and the leaders of the groups that represent minority students. He said they were going to get names of other organizations' leaders on campus, so the committee could have representation from various groups.
Mills said Nicholls should spend time getting to know the diverse campus organizations like NAACP, BSU, BWLA, CROWN and the Nicholls International Community. Mills said by doing that, diverse organizations would be able to provide direct feedback on what they feel they need so that they can be heard on campus.
Nunnery said there is still some work to be done to show the diversity of the student body. She said there are things that happen, where the organization that was asking for it was not notified that a decision was made. She said this situation happened with the name changes. 
"It was so drastic that nobody knew about it and then it just happened. So it's just like why weren't we told? Why weren't we in those meetings? Why weren't we heard then when we said it before but were being heard now? It's just a lot of stuff like that. It just shows us where we stand almost on the campus. Like we see you but we kind of don't see you," Nunnery said.
Freemon said she feels the name changes will help people feel more comfortable going back to Nicholls. She said it will help students feel like they belong more. Freemon said there are still things that people would want to see happen on campus, and that the name changes are just one step. 
"Supporting the black organizations that are on campus including the Greek organizations that are historically black, I feel like these organizations do a lot for campus, but we are often overlooked or they only pay attention to the organizations that are newer to campus," Freemon said. 
Kenney said the name changes are one step in a multi-step process to show they are not only complying but committing. He said they will continue the process until there is a resolution that is in the best interest of all that they serve. 
"The commitment to diversity and inclusion has been something that Dr. Clune has spoke of since he joined this campus. He started here January 1, 2018, and he has been talking about diversity and inclusion since he has been here…March or February of 2018, immediately he put together the Diversity and Inclusion Task Force," Kenney said. 
Freemon and Nunnery said they want the names to have great meaning to them, and a more positive history to them. 
"I just hope that when we start going through the process to find names we find people who were allies, not only to the university but to allies to the black community or just the community in general, but positive allies who supported everyone," Nunnery said. "They don't have to be black. It's not like it is a black or white thing. I feel like people are making it a black or white thing, and it's not a black or white thing. We need to have a person who is about change and positivity."
Leave a Comment
About the Contributor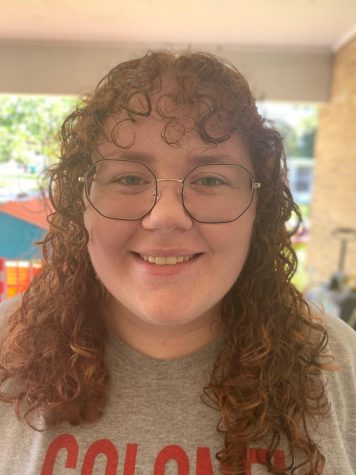 Jillian Landry, Magazine Manager
Fun Facts:

I love knitting and crocheting while watching crime shows, so basically I'm your average college-aged grandma. 


I love playing...