The Turning, spoilers to save yourself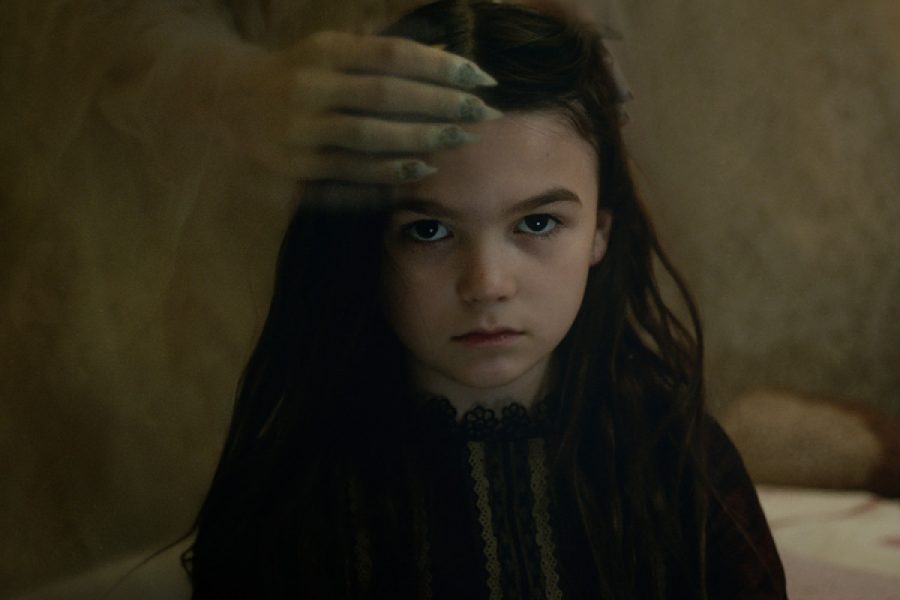 The Turning is a strange, slightly incoherent, cinematically-beautiful film. I wanted to like it, I really did. Upon the start of the movie, it checks all the boxes for a classic, spooky film, yet somehow, it ultimately misses the mark. 
The film begins with Kate Mandell, a teacher, accepting a position as a governess for seven-year-old Flora Fairchild at her family's estate. It is learned that Kate was hired rather quickly after the strange disappearance of the former governess, Miss Jessel. Kate later encounters Flora's older brother, Miles, who has suddenly returned from boarding school. It is later learned that Miles was expelled after attacking another boy, nearly strangling him to death. Miles almost immediately begins to terrorize Kate with inappropriate comments and playing pranks on her with Flora's help. 
Kate increasingly becomes more on edge throughout the film, at this point sleeping with her lights on. During a game of flashlight tag with the children, Kate is attacked in the basement by the ghost of Miss Jessel. Kate discovers Miss Jessel's diary, which contains concerning entries about Quint, the children's newly-deceased horse riding instructor, and his obsession with her. Kate also discovers photographs of a sleeping Miss Jessel with sexual comments written on them, presumably by Quint. Kate begins to see ghosts of both Quint and Miss Jessel around the estate more frequently and becomes increasingly paranoid. 
Kate's mother, who has lived in an asylum for the majority of Kate's life, sends her some art in the mail. The art is essentially all-black paintings. The house caretaker, Mrs. Grose, takes a look at the paintings and says that she hopes Kate's mother's condition "isn't genetic." Kate examines the art and is led by wet footprints to a pond and discovers Miss Jessel's body. Kate returns to the house in a panic and has a vision of Miss Jessel being sexually assaulted and strangled to death by Quint. Mrs. Grose is not surprised by this information, and it is implied that she ensured that Quint was killed. The ghost of Quint appears and pushes Mrs. Grose over a banister and kills her. 
Kate hurries the children into her car, ultimately making their getaway. The twist, however, is when all the events beyond Kate receiving her mother's art are revealed to have been a hallucination. Mrs. Grose sees Kate's mother's art and once again states that she hopes her condition "isn't genetic."
Kate is convinced that she sees the ghost of Quint upon walking into a room where Miles and Flora are playing. She is in disbelief when Flora and Miles claim they did not see him. Kate, frantically trying to get Flora to admit that she, too, saw Quint's ghost, accidentally breaks Flora's doll, sending Flora into hysterics. Miles comforts Flora and calls Kate delusional. 
The film abruptly ends with another hallucination of Kate's from inside the asylum, in which her mother lives. Kate sees a demonic figure she believed to be her mother on the ground, painting. Kate screams in fear, then the credits start rolling. 
The film is a modern adaptation of Henry James' The Turn of the Screw, though this is not the first film adaptation of the book—however, it may be the worst. 
On Rotten Tomatoes, it has an approval rating of 12 percent. The film, in a way, is like a clichéd babysitter horror movie, but instead of being enjoyably bad, it is just tired, with an unclear plot. 
Much of the plot has to be interpreted by the viewer, and not in a fun and mysterious sort of way, but in a sense that the story simply was not told well enough. The audience has to draw its own conclusions because of the vagueness in storytelling. The film had the potential to be great, but it just fell flat. 
If the storyline intrigues you, it would probably be best to stick to the original novel, The Turning of the Screw, or one of the few older film adaptations. It was very hard to interpret what this film was trying to accomplish without Googling it immediately after being hit with such a bizarre, abrupt ending.