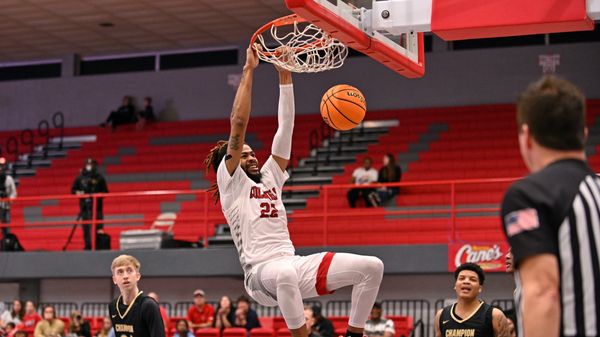 A late Jalen White three-pointer gave the Nicholls State University men's basketball team a 68-66 win over LSU.
Nicholls Jamal West Jr found White for a three-pointer with 1.2 seconds left.
White went 5-13 on three-point shots, the first three coming on the first three scores of the game.
White went 6-14 on field goals for 17 points and added six rebounds and a steal.
The two-point win is Nicholls' second all-time against LSU.
For Nicholls Head Coach Tevon Saddler the win may be career defining.
Sadler is in his first year as head coach at Nicholls and is the youngest head coach in Divison 1 basketball.
Nicholls got out to an 11-point lead before LSU scored its first basket.
An Michael Gray Jr three-pointer put Nicholls up 31-10 with nine minutes left.
West Jr hit two free throws to give Nicholls a 44-20, its biggest of the game, with two minutes remaining in the half.
LSU used Nicholls slowed pace in the final two minutes of the half to go on a 5-0 run.
The first-half momentum for LSU carried over to the second half, quickly taking a 13-3 to make it 47-41, cutting the Nicholls lead to 6.
A 7-2 run pushed Nicholls out to a nine-point lead, but it did not last long.
LSU stormed out to three-point lead after a 12-0 run.
After falling behind, LSU scored four to take a three-point lead.
Two Robert Brown III free throws made it a one-point game with 46 seconds left.
Nicholls held off LSU on its next offensive possession and ran the ball back up the court, looking for a go-ahead score.
West Jr fumbled a handoff but regained control and found White for the go-ahead three.
LSU had a chance to inbound the ball with 1.2 seconds left but did not get a shot off.
Final Score: 68-66 Nicholls
Nichols is back in action at the Jaguar Classic in Mobile, Ala. against Denver University on Wednesday.