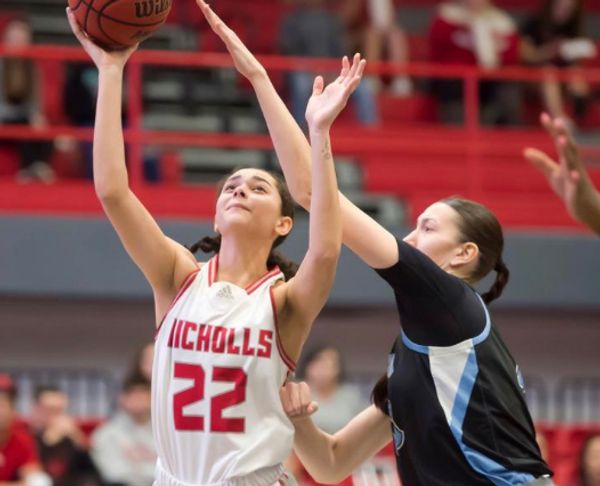 NEW ORLEANS – The Nicholls State University women's basketball team defeated Tulane University on Wednesday, Nov. 8 by a score of 69-66.
This marks back-to-back victories for the Colonels, improving their record to 2-0.
This is also the first victory over Tulane for Nicholls women's basketball since Jan. 18, 1991.
Freshmen guards Britiya Curtis and Betzaly Delgado helped push the team to the win.
Delgado and Curtis played the majority of the game coming in second and third in minutes played. Delgado finished with 38 minutes and Curtis with 33.
The duo was two of four players in double-figures Curtis with 18 points and Delgado with 11.
The pair made their biggest impact defensively, totaling 11 defensive rebounds, four steals and a block.
Head Coach Justin Payne acknowledged the presence the duo had in the game.
"Curtis is a special freshman," Payne said. "Her and Betzalys were highly recruited They're not afraid of the moment."
Nicholls head coach Justin Payne earns his second win as head coach of the Colonels.
"I'm just so darn proud of this team," Payne said. "They found a way to fight and continue to earn that victory."
Reigning Southland Freshman of the Year, Sophomore guard Lexi Alexander led the starters in scoring with 17 points and Kyla Hamilton led the upperclassmen in scoring with 11 points.
Payne said he's not surprised by the win because of the team's strong belief in each other.
"This is the belief and we're not surprised by it," Payne said. "We see it every day in practice."
After a back-and-forth first quarter, Nicholls found their stride in the second quarter, leading by as much as 11 points midway through the quarter. Nicholls kept the lead for the remainder of the half, leading 40-32 at the break.
The Green Wave took the lead twice after halftime but never led by more than two.
The Colonels got into foul trouble late in the game, committing five fouls in the last minute. Nicholls committed 24 fouls, seven in the fourth quarter alone.
Payne said the team needs to work on late-game situations.
"We could've fumbled the game at the end," Payne said. "We need to make sure we take care of that situation. We're going to watch film on Thursday, go over more late-game situations, and get back at it on Friday."
Nicholls went down 54-56 early in the fourth quarter but staved off the Tulane comeback.
Nicholls saw a Tulane three that would have sent the game to overtime bounce out of the rim as time expired to take the hotly contested game.
Nicholls returns home on Friday, Nov. 10 to play Southern University of New Orleans.
The game is Nicholls' annual education promotion game. 
Tip-off is scheduled for 11 a.m. in Stopher Gymnasium.