Louisiana native Kendall Battistella has been lighting it up on the court and it has earned her the Nicholls Worth Player of the Week.
Battistella won Player of the Week honors for her play during the week of Sept. 4-11.
In her game against Mississippi Valley State University, Battistella recorded 10 assists and six digs and in her game against Southern Mississippi, she recorded 18 assists and added six digs.
The starting setter/defensive specialist is in her second year with the Colonels after making the transfer from Blinn Junior College after originally attending the University of Louisiana-Lafayette.
Family is important to Battistella and Nicholls State University was one of the few places that allowed her to stay close to family and play the sport she loves.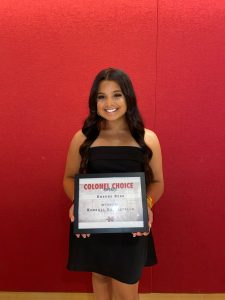 "My uncle actually played at Nicholls," Battistella said. "So me coming back home to play at Nicholls was kind of a big deal for my family."
Sports are of great importance to her family and are a major part of her life. Battistella's dad played college baseball at the University of New Orleans, so he wanted his daughters to play softball which he got from both daughters early on, but Battistella ended up taking a different route.
After playing softball and dancing up until the age of 10, Battistella eventually found her way to the volleyball court.
"I started playing when I was like ten years old when my best friend, Ansley Tullis, who's a libero at Southeastern, introduced me to it," Battistella said. "I got involved in our local rec league, then I got involved in club volleyball with Danny Tullis, who's one of our coaches here, and I just took it and ran with it."
In high school Battistella was a two-sport athlete, playing both indoor volleyball and beach volleyball. She has continued with both sports at Nicholls.
Battistella describes beach volleyball as being more physically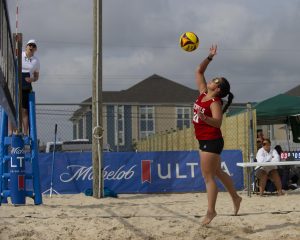 demanding and chemistry-based whereas indoor has a little more room for mistakes.
"They are two completely different sports. Beach has a lot to do with your endurance and physicality, and how your relationship is with your partner[…] You have to have good chemistry with your partner," Battistella said. "In indoor you have six people on the court, so if you're kind of lacking in one area, someone kind of helps take over your role."
Battistella says her motivation to play throughout the year comes from discipline and routine.
"I don't have a lot of distractions. I like to have a routine for myself and I'm not big into partying and drinking," Battistella said. "[For example] we got home from our game on Saturday and a few of us came and broke down film that night."
Off of the court, Battistella has another great passion, she yearns to help others.
"I have a burning desire to help people and blood and throw up doesn't phase me," Battistella said. "So I feel like that was my calling from God to kind of go out and help people."
Battistella said she worked as a nurse tech in rehab assistance with Thibodaux Regional last season and enjoyed her time there.
She does not have a specific place in mind where she wants to work, but says she loves the Thibodaux Regional and wants to stay close to family wherever she goes.
Battistella relates to the story and journey of her favorite athlete Giannis Antetekounmpo who has a movie based on his life, named "Rise," on Disney+.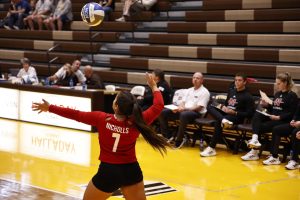 "["Rise"] shows that, no matter how you were raised or how little you have, that you can still be great and you can still help the entire world."
Another significant principle in her life is faith. It's something she credits for her success in life.
"No matter what religion you are, as long as you have, you know, the faith of a mustard seed, you'll be able to move mountains," she said.
Her message to younger girls thinking about playing college sports is to only do it if you love it.
"If you love it then yes [you should play], but if you don't love it, then no, because it's a big time commitment," Battistella said. "We're here early in the morning till late at night almost every day [..] and you make a lot of sacrifices."