Nicholls State University has a new Learning Management System (LMS) for the Fall 2023 semester.
After using Moodle for the past 11 years, the decision was made in the 2023 spring semester to make the move to Canvas, which was purchased by the University of Louisiana System and was offered to each of its nine public state universities.
Nicole Cotten, I.T. Specialist and faculty trainer for Canvas, made a series of ten short videos explaining the ways to use Canvas and to navigate its features. You can find that playlist by clicking here.
The "Canvas Playlist", as Cotten calls it, consists of the following tutorials:
Login and Find Courses

Dashboard Customization

Notification Settings

 Navigating Canvas

Inbox

 Calendar

Discussions

 Assignments

Quizzes/Tests

Canvas Help
There is also a course inside Canvas called "Passport to Canvas", in which you can learn how to use the new system. There are nine different lessons on the Canvas tutorial.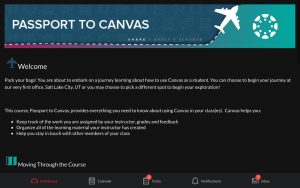 Sam Cagle, Chief Information Officer for the I.T. Department, said that the department helped make the ultimate decision to make the switch. 
"We reviewed it, and we liked it a lot," said Cagle. Canvas has an around-the-clock support system, running 24/7, 365 days a year, which was one of the reasons why the decision was made to move to Canvas,"Cagle explained. 
There's even a mobile app that's available for students and faculty to make Canvas easily accessible for everyone. "It's just fantastic," Cagle said. "Knowing students are on their mobile devices most of the time, that was a huge factor. The Canvas interface, whether you're on a phone, a tablet, or a computer, it's all the same interface and it just flows easily."
According to Cagle, Canvas has a fast turnaround time that the system delivers. "When you register for a class, within two hours, that class will appear on your dashboard. If you drop a class, two hours after you do so, you won't see that class in Canvas anymore."
You can download the Canvas Student and Canvas Teacher apps from the App Store and the Google Play Store.