Red v Black Spring Football Game
On Thursday, April 7 Nicholls football hosted their annual Red vs Black spring game.
This year's game was a change of pace from the pre-Covid years. The game was moved from Saturdays in the past to a Thursday night for the 2022 edition. Snowballs were given out behind the endzone, and students and fans were allowed to watch from the sidelines. The team played with music in the background.
The first quarter was highlighted by a couple of defensive plays. An interception by sophomore cornerback Tyreek Boyd in the red zone halted a team Red drive, but senior linebacker Quinton Sharkey would give team Red the ball back on a fourth-down stop. The quarter would end scoreless for both sides.
In the second quarter, team Black would strike first on Kohen Granier's touchdown toss to David Robinson Jr. team Red, however, would be held scoreless going into the half.
Robinson and Granier were two standouts offensively in this game.
"Dai'Jean was very good, and to lose someone like that it's hard, but with the type of (wide receiver) room we've been the past couple of years, and especially this year, it's going to be nothing to pick up that slack," Kohen Granier said. "Those guys—they've been here, they've played with him (Dixon), they know what they're doing, and all together we're going to be dangerous."
In the third quarter, Granier would pick up where he left off in the second quarter, hitting KJ Franklin on a long ball down into the red zone before throwing a 6-yard touchdown pass to Al'Dontre Davis to extend the lead to 14-0 for team Black.
Sophomore quarterback Leonard Kelly would lead a scoring drive for team Red, which would be capped off by a Jake Dalmado rushing touchdown on a fourth a goal play, effectively cutting the lead in half with a score of 14-7.
In the fourth quarter, team Red would make a crucial play when Jordan Jackson picked off a pass at Black's 35-yard line, putting team Red in scoring position. Team Red would convert on this opportunity with running back Jaylon Spears punching the ball in for a touchdown after a Terry Mathews catch down at the one.
Leonard Kelly would lead another scoring drive, this time for team Black, which resulted in a field goal that lifted team Black to a 17-14 lead. Team Red would then try to mount a game winning drive, but Kylin White had other plans, ripping the ball out of a receivers hands for a game winning interception. The whistle would then blow, forgoing the kneel down to run out the clock.
All in all this game was highlighted by defensive play with a final score of 17-14 and a tally of four turnovers in total.
"Defensively you want the takeaways, we always try hard on doing that and I thought they got a couple good strips getting the ball out, and a couple of overthrown balls they went and got, so it's always a big point of emphasis," Coach Tim Rebowe said.
The receivers and running backs also showed out in this game. Two of the lesser known receivers had a great showing: Terry Mathews with some big catches, and David Robinson Jr. also had some big receptions, in addition to scoring a touchdown. Running-backs Jake Dalmado and Jaylon Spears were each able to power through the defense and score.
The game got the competitive spirits of these guys going, and gave fans the opportunity to enjoy themselves and get excited for next season.
The team will start workouts back up in June. And as always, Geaux Kerns!
Leave a Comment
About the Contributor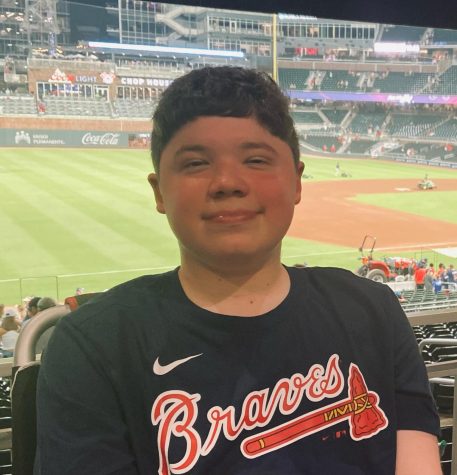 Brogan Burns, Sports Editor
I'm a Mass Communications major and a huge Saints fan. I'm from Chalmette, and I haven't seen my dog in a month.

Fun Fact: I've listened to the...