COVID-19 and Consequences: What happens when I refuse to comply with random testing?
Nicholls State University, in compliance with the Louisiana Department of Health (LDH) and the University of Louisiana System, has begun requiring students who opt out of the COVID-19 vaccination to be tested at random, but what will happen if you do not get tested upon being told to do so?
Ultimately, if one does not follow the posted guidelines set in place by the university, he or she faces termination from being a Nicholls student.
University Director of Compliance, Conduct, and Accountability Dr. Tommy Ponson explained the process from beginning to end and what would happen if a student chose not to comply with the university policies. 
He said that when people file for exemption, their name is put into a pool, and from this pool, a number of students are pulled to be tested each week. Students will receive an email upon being drawn from the pool. After receiving the email, the student has five days to either get vaccinated or get tested. 
Ponson explained that a test can be conducted anywhere, and that the testing center will upload the test information directly into a database that Nicholls has access to. From this database, the person in charge of tracking who is and who is not being tested can determine whether or not a follow up email needs to be sent. 
"The process is simple," Ponson said. "If the student's test is uploaded to the database, his or her name will be removed from the pool, but if the student does not get tested, they will receive an email reminding them to get tested."
He said that once the student receives the follow-up email, five more days will go by before the student's name is turned in to him, at which point he will meet with them to see why they have not been complying with what the university is asking. 
"There are a lot of outside circumstances that students have no control over right now," Ponson explained. "For example, one student's mom called me and told me that it was not that her son did not want to get tested, it was that they have no internet back at home and by the time the email got to him, the deadline had already passed."
Ponson said that he is very aware of these circumstances, and he is making sure that he approaches students whose names are turned in with understanding. 
"When they get in here, I'm more like 'Alright, sit down, and tell me what's going on; why is it that you haven't done your test? Let's talk about when we can get that done,'" Ponson said. 
One idea that Ponson expressed was that many people think that it is just a Nicholls thing, but these rules about testing are being enforced across all universities under the UL system and all universities in Louisiana because of the LDH. 
He said that he encourages all students to either take the vaccine or get tested immediately upon receiving the first email. 
"If you don't get your vaccination, you will receive the ultimate consequence: you won't be able to register for classes after Oct. 25," Ponson said.
Leave a Comment
About the Writer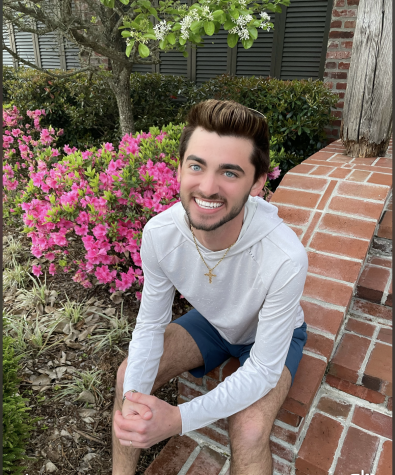 Brennan Arcement, Editor-in-Chief
Dear students,

What a whirlwind of a time we have had these past few months! Just as it seemed that the COVID reign of terror was drawing to a close,...