Suspicious activity warrants safety warning campus-wide
In an email released to campus yesterday, it was announced that suspicious activity had been reported in the parking lots at Nicholls. Though no criminal findings resulted from investigation, various tips were presented to help prevent dangerous situations. 
Director of Communications Jerad David dated these events back to last week, when campus police noticed word spreading on social media. People–including Nicholls students and members of the Student Government Association–were discussing a number of predominantly male individuals coming onto campus with the intention of talking to females in parking lots. 
"No kind of threats or anything were made, but in all of the cases it made the women feel uncomfortable," David said. 
David explained that in these cases, the males were asking for names and numbers from the women. As a result, he said that university police reviewed all video footage of each of the incidents and determined that no criminal activity has occurred, so there were no charges made. 
"But, at the same time, we want to make sure that there are no threats to campus. We're trying to be proactive in making sure that our campus is safe and that we are protecting our people," David said. 
Consequently, David mentioned that university police have increased the amount of patrols around campus in the evenings, and that they've also partnered with the Thibodaux police to patrol as well. 
"Myself and Chief Barnes got together and came up with those safety points, more or less as a reminder just to be aware of your surroundings," David said. 
Though David said that the incidents on campus were most likely harmless, out of an abundance of caution, there is an increased desire for everyone to be mindful of their surroundings, and aware of the safety tips included. 
"We really and truly should put them out pretty regularly anyway, just so people remember those sorts of things. It's very easy to get laxed in safety when you're not thinking about it. So, a reminder every now and then certainly doesn't hurt," David said.  
Chief of Police Alexander Barnes added by stating that as this incident is an ongoing investigation, it is highly important for people to understand that social media is not the appropriate response to these types of situations. Instead, he emphasized that if something makes one feel unsafe or uncomfortable, they must exit and report it to the police.
Chief Barnes also noted the importance of cooperating with an investigation, as well as providing as much information as possible. 
As he stated that student's safety is a top priority, Chief Barnes said that the ability of a student to feel safe on campus is vital to their academic success. 
In ensuring one's safety, the suggested tips are as follows: avoid walking alone after dark, be aware of all surroundings, tell a roommate or friend your whereabouts as well as the expected time of return, keep near well-lit streets and away from shadows. 
David wrote that it is also important for one to trust their instincts and exit a situation immediately if it causes them discomfort and keep the university Police Department's phone number (985-448-4746) programmed as a favorite in one's cell phone. 
Last, it is always crucial for one to contact 911 or use one of the emergency call boxes located around campus if ever they feel in danger. 
Leave a Comment
About the Contributor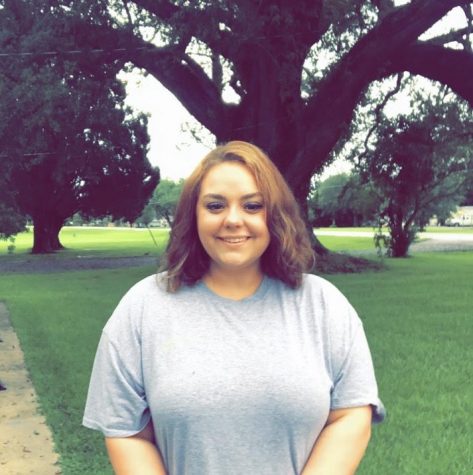 Haley Landry, News Editor
Fun Facts:

Traveling to Greece is fairly high on my bucket list.
If I were a Starbucks flavor, I'd be a white chocolate mocha—mainly because...