Meet the 2021 SPA candidates
The elections for the Student Programming Association are coming up soon, so here are some facts about candidates running for new positions. 
SPA Special Events Committee Head Taylor Roussel, in pursuit of her psychology degree with a minor in English, was raised in Thibodaux, where she attended Edward Douglas White High School. In this time, she was involved in a multitude of extracurricular activities including color guard, softball, student council, choir and drama club. 
As a Nicholls student, Roussel is a part of Delta Zeta Sorority, Panhellenic Association, University Honors Program, Psychology club, Colonel Catholics, Delight Ministry and Phi Eta Sigma. 
Roussel explained that the moment she arrived on Nicholls' campus, she wanted to be involved in everything that she possibly could. She said that it was through her freshman orientation that she discovered SPA. 
She expressed that she was immediately drawn to the association with her interest in planning fun events for the student body. Joining in her first semester, Roussel became a committee member, where she was able to help create ideas and volunteered to work some events. Still, she knew that she wanted to do more. 
As the Publicity Director position opened, Roussel decided to take a leap of faith and interviewed. In turn, Roussel was offered the position and she accepted the position.  She created event graphics that advertised for SPA events. She even photographed different aspects of the event along with finding innovative ways to grow the following of SPA. She also worked on keeping the students on campus engaged. 
Now, serving as the Special Events Committee Head, Roussel is responsible for planning some of the biggest events on campus. Examples include Welcome Back Day, Gleaux Colonels, Homecoming Week and Crawfish Day. 
According to Roussel, her motivation derives from her love of helping others. With her degree in Psychology, she is an adamant advocate for mental health awareness. As she is very passionate about wanting to help others live their lives to the fullest, she explained that she loves planning these events for students because she wants them to have the best college experience possible.
The next running candidate for SPA President, Multicultural Committee Head Angela Yanez mentioned that she is currently at Nicholls for her nursing degree with a minor in Spanish. 
Originating from Baton Rouge, and having attended Baton Rouge Magnet High School, Yanez was involved in BETA, key club, National Honor Society, Spanish Honor Society, theatre program and the radio station program. Here at Nicholls, she also holds the Diversity & Inclusion Chair for Delta Zeta Sorority.
Though Yanez had never heard of SPA before arriving at Nicholls, she knew that she wanted  to be more involved on campus, and the association definitely allowed it. 
Inspired by her mom, Yanez stated that as she was growing up, she showed her and her siblings that no matter how hard things could get or what life threw at them, to never give up. Yanez explained that as her mother came from a different country and as things were definitely difficult for her, she knew that she wanted the best for her family, and she refused to give up, no matter the struggle. 
In turn, Yanez said that she's extremely thankful for having been provided this example in her life, and that she aspires to have the same strong sense of faith and hope in every step she takes in her future. 
For SPA's vice president position, there are also two candidates in the race. 
The first candidate, Union Events Committee Head Taylen Daigle explained that she was a secondary education major with a concentration in English and additional plans to obtain her Master's in Educational Leadership. 
From a small city right outside Lafayette called Rayne, Daigle was in attendance at Rayne High School. During this time, Daigle explained that she participated in pretty much every service club her school had, inducing NHS, Interact, as well as serving as the president of BETA club. Daigle also cheered for all four years of high school, serving as captain for two. 
Daigle said that her love for serving others carried over into her attendance at Nicholls. In turn, she took the first opportunity she could to serve at Nicholls, becoming an SGA Freshman Senator for her first two semesters. Daigle has also been involved as an honors program council delegate her entire time at Nicholls, Phi Mu Vice President of Committees, and is part of N.E.A.T., Chi Alpha, Delight Ministries and Orientation Team. 
Daigle accredited her three year service on the student council executive board, as well as other clubs, for her love of planning events and other activities for her fellow students. She noted her favorite as the time she served as District V for LASC, having been given the opportunity to plan our district workshop for all of the surrounding schools. 
The minute she discovered SPA at her freshman orientation, Daigle knew that she wanted to be involved. Serving as an avid committee member, volunteering at multiple events, she knew that she wanted to be more involved behind the scenes. 
In this past year, Daigle explained that she found great joy out of planning events on her own, as well as helping the rest of the board. In turn, her interest in her position resulted from the desire to help other incoming members like herself to plan events that will help Nicholls students enjoy their time on campus. 
Additionally, Daigle rooted her motivation back to her Christian faith. She said that everything she does is to show others love and service as Jesus did. Daigle said that this is not only limited to others who share her beliefs, and that she sees all as being created for good and with purpose. 
She explained that she wants to do anything in her power to bring a little light to their lives along the way. In terms of her future aspirations, Daigle explained that she intends to do the same for students in her classroom. She wants to bring joy to the lives of others, and she said that SPA has allowed her to provide it to the entire campus. 
Entertainment Committee Head Trevor Tabor was next to give his story, mentioning that he's currently working on a degree in Mass Communication, with a concentration in Public Relations. 
Coming from Bayou Blue, LA, Tabor attended Central Lafourche High School in Mathews. During this time, she was heavily involved, participating in student council, performing arts club, National Beta Club, National Honor Society, yearbook staff, class offices and student work. 
In attending Nicholls, Tabor has taken on not only SPA, but also University Honors Program, Alpha Lambda Delta, Phi Eta Sigma and Nicholls Prism. 
In first attending Nicholls, Tabor immediately sought out ways to be more involved on campus. In finding SPA, he instantly fell in love with the organization and its mission to deliver quality entertainment to students. 
Tabor mentioned that the students at Nicholls are what motivate him the most, to be the best that he can be. As their events are specially catered for the students, he always keeps them in mind when designing. 
In addition, Tabor stated that as vice president, he will consistently be mindful of all students and how her committee head's events can be altered to meet the needs and wants of the diverse student population. 
About the Contributors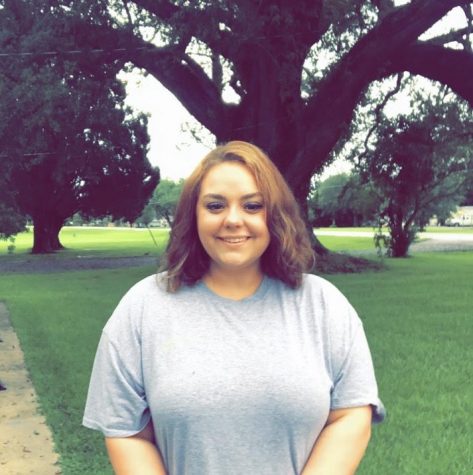 Haley Landry, News Editor
Fun Facts:

Traveling to Greece is fairly high on my bucket list.
If I were a Starbucks flavor, I'd be a white chocolate mocha—mainly because...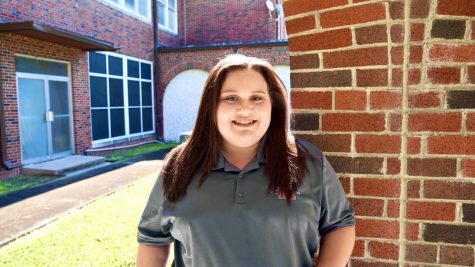 Addie Wetzel, Graphic Designer
Fun Facts:

I would like to travel the world, but tasting the many kinds of pasta in Italy seems like a great time. 
If I were a drink from Starbucks,...