Nomadland Review
Chloé Zhao's latest film, "Nomadland" is finally streaming on Hulu. The film is based on the book, "Nomadland: Surviving America in the Twenty-First Century," written by Jessica Bruder. 
"Nomadland" has been getting a lot of attention lately due to the multiple awards the film has won so far, such as the Golden Globes for Best Motion Picture-Drama. 
The film follows a woman named Fern, played by Frances McDormand, as she travels around the American West in her van, which is also her home. From there, she meets many interesting people, such as Linda May, Swankie, and David. Each person she meets eventually goes their way, often leaving Fern with the question of what to do with herself after they leave.
The cinematography of this film was spectacular with many shots of the American Badlands and mountains present throughout. Fern is a Thoreau-like character in that she likes to break away from human civilization and become one with nature. This film does a really good job relaying that as it shows both the beauty of the landscape and Fern's fascination and interactions within that landscape, such as her hiking tour with David and Linda May. 
The only scene that pulled me out of the narrative of the story was early in the film as Fern visits a community of nomads in the Arizonian desert. When Fern is talking with the nomads in the desert, it feels oddly similar to documentary interviews. This may have been intentional on Zhao's part, but the scene seems to make the audience self-aware and consequently, pulls them out of the scene. While the scene was a nice piece, it felt a bit out of place within the fictional narrative of the film.
The film's message of a home is really powerful. It's the idea that home is what you make it; a home isn't necessarily a house. Fern's home is the open road and that is just the way she likes it. She is unable to go back to living under a roof and even though she came very close in a couple of scenes, she could not bring herself to do it. As cheesy as it may sound, home is where the heart is.
Overall, this film was a true spectacle and it will be interesting to see how it fairs during the Academy Awards. I believe "Nomadland" truly has the potential to win Best Picture this year. 
Have you watched "Nomadland"? What did you think of the film? Let us know in the comments below.
Leave a Comment
About the Contributor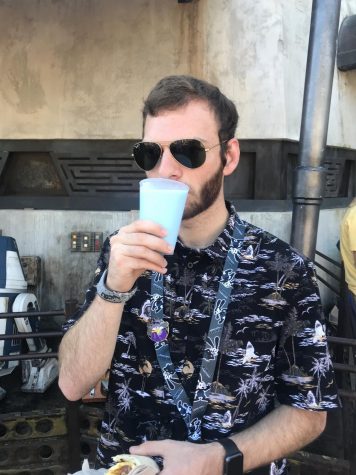 Owen Callais, Entertainment Editor
Hey, I'm Owen! I'm a senior English and Film major. I love to go hiking and watch movies.

Fun fact: My role models are Steve Irwin and Forrest Galante,...