SGA discussed faculty salary and campus improvements
The Student Government Association (SGA) weekly meeting consisted of reports on campus improvements, passing several motions and swearing in two new officers.
The meeting opened with SGA President Emma Bourgeois' address to the senate. Her major point was the process through which Nicholls would have to drive in order to get faculty raises.
"Over the past few years, 13 faculty members have moved to a different university, and four faculty members declined offers, all due to compensation," Bourgeois said. 
Statistics based upon the faculty salary of several neighboring universities show that Nicholls faculty members are shorted more than a $4,000 difference.
"We are ranked as the university with the eighth-lowest tuition fee among the UL system schools, at an average cost of $7,952 annually," Bourgeois said. "If Nicholls is granted a fee increase, the average cost would move to $8,252 annually, which would allow for more money to go toward the salary of the faculty and staff." 
Bourgeois said the proposal is in its final stages of production, but before it is finalized, University President Jay Clune would like student input regarding the matter.
Once Bourgeois moved from the podium, Director of Grievances Ethan Adams assumed the floor to discuss student concerns on campus. 
"New WiFi routers have been installed in some buildings in order to cast a longer ranging signal for students' convenience," Adams said.
He also spoke about the rearranging of faculty parking in order to allow for more student parking spot availability. 
Vice President Markaylen Wiltz also addressed the senate in order to express his concerns that the SGA legislature is focused too heavily on events that do not benefit the campus as a whole and instead focus on a select few.
"There have been more passed motions dealing with student travel than there have of any other sort," Wiltz said. "While these student travel events are important, I would like to see more meaningful legislation benefiting the university and student body in its entirety."
He challenged the senate to come up with five new campus-wide bills to discuss at the next meeting. 
"I hope we can move to pass them all," Wiltz said.
Once he addressed the senate, the motion passing progress began. 
A motion to approve President Bourgeois' corollary passed, and her corollary, The Bourgeois Corollary, is now instituted into the SGA program.
Ethan Naquin, science and technology senator, moved that the senate pass a bill asking for a $251.98 purchase of new whiteboards for the tutoring center on campus. 
The bill was passed after a convincing narrative by Science and Technology Senator Sydney Matherne.
"I have tutored in the center for a while now, and the new whiteboards will not be purchased in vain," Matherne said. "They are very necessary and will really enhance the experience of both tutor and learner."
She said that many times, multiple students will use one large whiteboard at one time, which makes it very difficult to hone in on the subject matter for which one is being tutored. 
"For example, a problem is created when one student is working on a multi-step chemistry problem next to one working on a math problem. The two become intertwined, and then, everyone is confused," Matherne said. 
Another bill passed was Liberal Arts Senator Ethan Henry's motion that the senate allocate $300 to purchase 300 water bottles for the Alive at Five event.
Lastly, the senate moved to appoint two new liberal arts senators. 
Liberal Arts Senator Ethan Henry moved that the senate accept Bourgeois' appointment of Crissie Bellanger to the position of Liberal Arts Senator. Bellanger is a freshman political science major from Galliano, Louisiana.
Additionally, Liberal Arts Senator Juan Ponce moved that the senate accept Bourgeois' appointment of Maegan Rousse to the position of Liberal Arts Senator. Rousse is a freshman vocal performance major from Cut Off, Louisiana.
Leave a Comment
About the Writer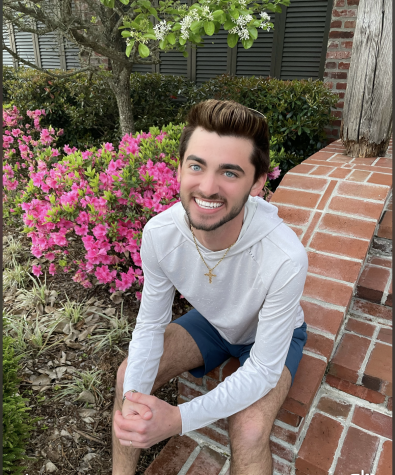 Brennan Arcement, Editor-in-Chief
Dear students,

What a whirlwind of a time we have had these past few months! Just as it seemed that the COVID reign of terror was drawing to a close,...