Soccer Spotlight: Blaire Laiche
Blaire Laiche, a senior midfielder from Gonzales, is very active in the campus community.
Recent Nicholls State University Player of the Week winner, Laiche has been playing soccer since she was five and played club soccer, competing in regional and national tournaments all the way until college. This is where she would play semi-pro soccer with Baton Rouge United in the summer.
Laiche said that soccer has taught her a lot of valuable skills, like how to work with others, getting along with different people, time management and having discipline.
"It has definitely taught me a lot of valuable skills. You really can't teach how to work with others unless you're doing it, so working with the team, getting along with different people and being able to meet new people and get along quickly," Laiche said.
Laiche is looking forward to getting to the conference tournament.
"I am hopeful and positive. I think we have a good opportunity this year. The team is strong, and we are more unified than in the past," Laiche said.
Laiche is involved with the Pre-Medical Association, the Biology Society, the Student-Athlete Advisory Committee (SAAC) and she is involved with Colonel Catholics.
"She's a big part of the campus community. She's a big part of the community in general. She's such a good person," Soccer Head Coach Danny Free said.
Maegan Martin, a campus FOCUS missionary and friend of Laiche, explained Laiche's involvement with Colonel Catholics.
"Blaire is the most passionate person I know. She is loud and crazy and wild, but she loves the people close to her. She loves her team, and she loves the Lord a lot, too. When she started coming around St. Thomas, it was like 0-60 for her. She doesn't do anything halfway," Martin said. "She started to pray slowly, but then all of a sudden, she was at every event. She was at every bible study. She was all in, in her faith."
Blaire said she is very proud of her grades that she recently got an interview with Louisiana State University School of Dentistry in New Orleans.
"Academics is definitely a big accomplishment. College isn't easy for anyone, so being able to maintain my grades and getting an interview into dental school, that's been one of my goals, so being able to accomplish that meant a lot to me," Laiche said. "Getting Offensive Player of the Week was definitely an accomplishment. It was an honor to receive that. There's a lot of girls in the conference."
"She's good at soccer. She's very good. It's a skill that she has. It comes naturally, but she does have to work hard. She works hard for everything she has gotten. I think that more than soccer, she loves her teammates and her coaches. She really enjoys honoring God in her sport," Martin said.
After she graduates, Laiche explained that she will miss soccer and being with the other women on the team. She also said she is going to miss the community within the team and being able to compete every day.
"I know I'm going to miss soccer… I've never had a time without soccer, so I'm sure I'm going to miss it," Laiche said.
Laiche, after graduating, plans to go to dental school and become a dentist.
"It's been awesome to see her grow into a very mature young lady, and I think she's going to be very successful after she leaves here," Free said.
Leave a Comment
About the Contributor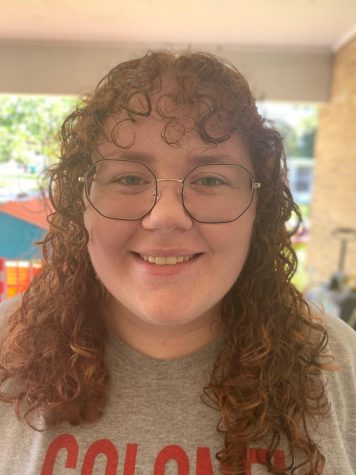 Jillian Landry, Magazine Manager
Fun Facts:

I love knitting and crocheting while watching crime shows, so basically I'm your average college-aged grandma. 


I love playing...