SGA discusses motions and campus renovations
The Nicholls State University Student Government Association's (SGA) weekly meeting consisted of presentations regarding new things happening around campus and the tabling of new motions.
Dr. Mary Jackson, a development faculty fellow, questioned SGA about renovations taking place in Gouaux Hall. The senate told her that SGA is giving $15,000 to the expansion project.
Dr. Quenton Fontenot, head of biological sciences, said that he would like to see smaller class sizes in order to keep overcrowding at bay. He would also like to see tabletop seating, with charging stations for students.
A Terrebonne Parish police officer also briefed SGA on their department's response to the opioid epidemic. He explained that between 80% and 90% of offenders are currently incarcerated.
However, they explained that a lack of rehabilitation is resulting in people being released and returning to what it is that incarcerated them in the first place.
The Terrebonne Parish officer also said that the plan is to put jailed offenders through a faith-based rehabilitation program in order to prevent them from regressing back to selling or using opioids.
The rehabilitation programs are for all involved in the spread of opioids, and according to recent studies, the programs have a 40% success rate.
Kristy Bourgeois, vice president of the Nicholls Information Systems Club, told SGA that Nicholls is partnering up with JCPenny for Colonel Suit Up Day.
This event will be held Sunday, Oct. 6, from 6 p.m. until 9 p.m. at the JCPenny store in Houma. JCPenny will be closed to the general public and open for only Nicholls students.
Both formal and casual business attire will be on sale for Nicholls students. The optical center will be open and will exhibit discounted glasses and sunglasses. The hair salon will also be open to selling products. Students will also be able to make future hair appointments during this time.
In order to attend this event, students have to RSVP through Handshake and bring their Colonel Cards.
According to Bourgeois, Nicholls is working on getting a few busses to transport students from campus to Houma and back in case they have no other means of transportation.
One of the motions presented was that the senate provides funding up to $2,000 for the e-textbook proposal for the Ellender Memorial Library.
According to Nursing Senator, Symphony Brown, this would allow students to have almost unlimited access to textbooks. The motion was tabled and will be brought up at the next meeting.
Another tabled motion was the funding of $800 to assist students attending the Chemical Society Conference.
Senator-at-Large, Heather LeBouef said the conference will be held on Oct. 16-19, 2019 in Wichita, Kansas. The event would allow Nicholls chemistry majors to experience professional presentations on a multitude of topics regarding chemical science. It would also give students a chance to present their own research.
Leave a Comment
About the Writer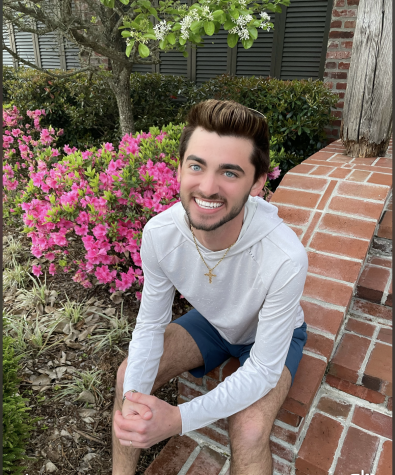 Brennan Arcement, Editor-in-Chief
Dear students,

What a whirlwind of a time we have had these past few months! Just as it seemed that the COVID reign of terror was drawing to a close,...