Policies on hazing at Nicholls State University
Nicholls State University has a no tolerance policy regarding hazing in any of its many forms.
Nicholls follows all of the hazing-related laws set by the University of Louisiana System, which was created due to the death of Max Gruver on Louisiana State University's campus in 2017.
Hazing, defined by the University of Louisiana System Policy, is "any intentional, knowing, or reckless act with others directed against an individual that endangers the mental or physical health or safety of a student for the purpose of pledging, being initiated into, affiliating with, holding office in, or maintaining membership in any organization whose members are or include students at an educational institution."
Tommy Ponson, director of compliance, conduct accountability, and ethical development, explains that Nicholls is doing everything in its power to keep students safe from hazing. The university, by law, is required to administer a hazing informative online course for the students.
"Hazing varies in form and is not only taking place in fraternities and sororities, but it will not be tolerated on Nicholls' campus," Ponson said.
Though hazing is oftentimes associated with fraternities and sororities, it has been prevalent across college campuses in more forms than Greek life initiations.
The College of Education and Human Development, University of Maine, did a study in 2018 showing that from varsity athletic teams all the way to the honor society chapter, an average of 48.6% students on any given campus experience hazing to some extent.
All students received an email at the beginning of the semester regarding a course in hazing and follow up assessment. The course, published by Student Success/Vector Solutions, should be completed by Friday, November 22, 2019.
Every student is required to take the course. However, only freshmen receive a grade for its completion. The grade will be given in the University Prep class. The absence of a grade for sophomores, juniors, and seniors should not deter them from completing the program.
"Failure to finish the course will result in the student's inability to participate in co-curricular activities," Ponson said.
When asked if numbers associated with hazing have gone up or down over the past year, Ponson smiled.
"The number hasn't gone up, but to say it has gone down would also be incorrect because Nicholls has been fortunate enough to not have any hazing incidents since I've been here," Ponson said.
Ponson credits this to the tightly-knit community that Nicholls has established over the years.
"Our students are intelligent; they respect authority and they respect each other," Ponson said.
Ponson wanted to remind students that just because hazing has not been a major problem on campus, does not mean that the university does not have consequences for hazing-related actions.
"A student found guilty of hazing will be criminally charged by way of prison or fines, and the university holds every right to dismiss the student not only from his organizations but the university as a whole," Ponson said.
Ponson is confident that there will be no need to have a trial for hazing at Nicholls.
"I am very confident that because of the amazing students we have who dedicate themselves to everything they do, Nicholls should be good as far as hazing is concerned for years to come," Ponson said.
Leave a Comment
About the Writer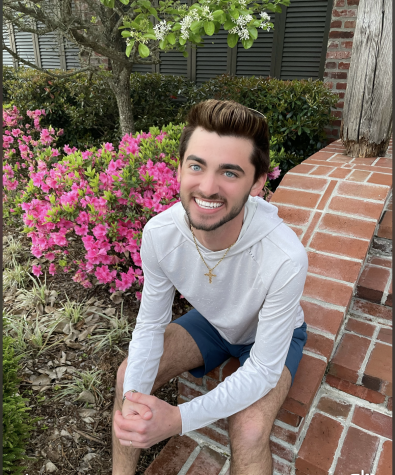 Brennan Arcement, Editor-in-Chief
Dear students,

What a whirlwind of a time we have had these past few months! Just as it seemed that the COVID reign of terror was drawing to a close,...