Nicholls State University continues campus renovations
Nicholls State University is continuing to beautify its campus through a multi-step renovation process, which began during the summer of 2019.
Terry Braud, vice president for finance and administration of Nicholls, shared that construction to areas on campus will end shortly after the start of the fall semester. However, some projects may not actually be completed until mid-October or even as late as January of the new year.
One of the major projects underway is the Donald G. Bollinger Memorial Student Union. The building is in the process of being gutted in order to allow for the construction of a space-conscious, optimized seating area.
The once multi-tiered common space has been stripped to one level in order to maximize the seating capacity while maintaining a relaxed and spacious atmosphere. Braud said the project is estimated to cost approximately $450,000, but, because of generous donations, the university should only have to front a fourth of the cost.
"Renovations on the student union should be complete come early October, but students shouldn't worry about access to food because alternative arrangements for its vending have been made," Braud said.
The Colonel Media Group is also awaiting the completion of its new office space in Talbot Hall. Braud said this two-phase renovation will be finished in January 2020 and will have an estimated cost of $425,000, $260,000 of which was given by donors.
Phase one includes the construction of the basic floor plan for the new media offices, and it is said to be finished within the next 60 days.
Phase two, which consists of the technological programming of all aspects of Nicholls media, is said to be finished in January. Braud said in addition to the Colonel Media Group space, a new art gallery is also being installed in Talbot.
Braud said the cost of the art gallery is estimated to be between $40,000 to $50,000 and is expected to be finished around the same time.
Braud said Nicholls is also in the planning phases for an expansion of Barker Hall. Braud said the expansion will include a brand-new structure, housing a football operations center located on the south end zone of John L. Guidry Stadium.
Braud said an anonymous gift of $2.52 million was given in order to help make the $6.5 million expansion possible. This donation holds the record for the largest monetary gift in the history of the institution.
According to Braud, phase one of the new football operations center will include a new locker room, players' lounge, team meeting room with stadium-style seating,  a training room and an equipment room. The new center will also have coach and staff offices, position and group meeting rooms, a catering kitchen and a showcase lobby.
Phase two of that operation includes an indoor practice space for all teams to use should weather conditions or other issues prevent outdoor practice. Braud said the entire project is set to be completed by the beginning of the 2020 football season.
Braud said the greenhouse on campus is also being renovated.
"The greenhouse, which has fallen into complete disrepair since its construction in October of 1959, is being brought back to its beauty," Braud said.
Braud said the renovation will consist of a multipurpose room, which can be used for classes, retreats and meetings. The greenhouse will also have an outdoor garden, a greenhouse shop and a citrus grove.
The ultimate goal of the renovation is to grow herbs and vegetables for the John Folse Culinary Institute, bring in revenue and provide agricultural education for students, alumni and the community of Thibodaux.
Through a partnership with the Diocese of Houma-Thibodaux, a new adoration chapel is currently underway adjacent to St. Thomas Aquinas Catholic Church.
The new chapel, completely funded by the Houma-Thibodaux Diocese, was spearheaded by Father Mitch Semar, the newly appointed pastor of St. Thomas.
The roundabout is also nearing its final stages of completion. The city of Thibodaux is paying for the construction in full because Audubon is a municipal street. Nicholls had a hand in speeding up the process of building to ensure construction wouldn't be going on when students returned for the fall semester.
Braud said the new road feature should eliminate traffic backups and allow for a smoother flow of traffic.
Glennwood Drive, located behind Elkins Hall, has also undergone construction. This road is being redone by the city of Thibodaux to smooth it out. Braud said this will reduce tripping hazards on the road, as well as provides for better drainage from the road.
Though several heavy renovations appear to be going on all at once, Braud assures students and faculty that every possible measure is taking place to make sure these transitions happen smoothly and cause as few disturbances as possible.
Leave a Comment
About the Contributor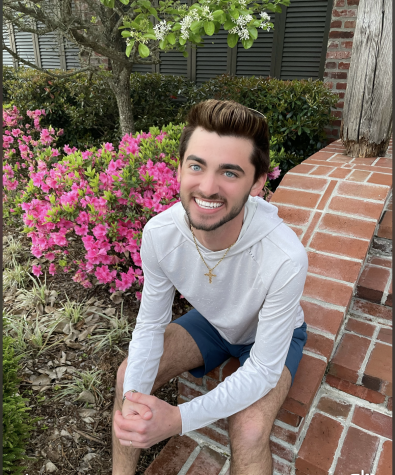 Brennan Arcement, Editor-in-Chief
Dear students,

What a whirlwind of a time we have had these past few months! Just as it seemed that the COVID reign of terror was drawing to a close,...