On Friday morning, Nov. 10, veterans gathered in the Cotillion Ballroom at Nicholls State University for a ceremony honoring their service. 
Gilberto Burbante, the Coordinator of Veterans Services for Nicholls, gave the opening remarks for the ceremony and introduced the speakers. Burbante is also a veteran who served 14 years and desires to meet the needs of student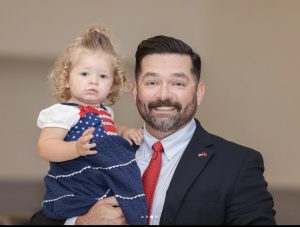 veterans. 
Dr. Jay Clune, the university president, said about Burbante, "Gilberto has created a model that is the envy of other institutions across our state." 
Clune also thanked the veterans present for their dedication: "Your service does not go unappreciated here at Nicholls State University."
Next, Kevin Mock spoke on the importance of the Nicholls State Veterans Organization (NSVO). He has been able to see the positive effects of this group through his daughter, who is part of the group. 
He said that the organization "provides purpose, direction, motivation, from the freshman to the senior," and that the members "learn to work hard, and they learn to play hard."
The special guest speaker was Sgt. Mitch Gautreaux of the United States Marine Corps. As a "thank you" to the veterans present, Gautreaux said, "We wouldn't be here if it weren't for you guys. We wouldn't be able to follow in your footsteps if you guys didn't leave a path for us to follow."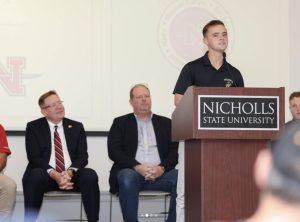 He told his story about his time in the military, which started in 2016 as he worked in intel then in a helicopter unit. 
He said, "No matter how bad it got, when I went home at night I didn't ask myself 'Am I doing what I need to do?' because I knew I was."
Gautreaux was awarded the 2023 Commandant of the Marine Corps Trophy for showing outstanding effort in his training and rising above expectations. 
He saw his award as a motivation to keep moving forward and to hold himself to a higher standard. 
"I never intended to go out and be anyone extraordinary or be anyone special," Gautreaux said. "I intended to do my part."
After leaving the military and settling into family life, he heard about the war in Ukraine and decided to go back full time. First, however, he enrolled at Nicholls to earn his degree in business. 
NSVO president Zach Otinger then closed out the ceremony. Otinger is a member of the United States National Guard. He said that, though many members are no longer in active duty, their impact does not go unrecognized.
"We're still serving," Otinger said, "but in a different manner. We're making history here on campus."
After the ceremony, the veterans were treated by NVSO to a free lunch at the Vernon F. Galliano Dining Hall.