On Oct. 31, the Student Government Association [SGA] held a ribbon cutting ceremony for the new parking lot on campus.
The new parking lot is located between Talbot Hall and Millet Hall, on the former tennis courts. It can accompany a total of 86 vehicles. It is scheduled to open at some point on Nov. 1, according to SGA president Jax Badeaux. 
Badeaux pushed for this parking lot in his campaign to become president last spring.
"I had a simple vision to improve the Colonel experience wherever possible," Badeaux said. "Today, I'm excited to announce that we've taken a huge step towards that goal in just one semester."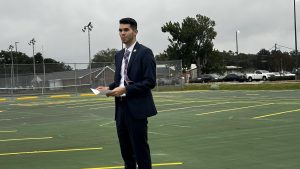 Badeaux said that this project is all for making the lives of students easier, and he hopes that this project will see a decrease in student frustration across campus.
"This project is not just about cement and yellow paint," Badeaux said. "This parking lot means that students won't have to spend as much time looking for a parking space on a rainy day or if they happen to run late."
Before cutting the ribbon, Badeaux reminded everyone in attendance one thing:
"As we cut this ribbon and open our new parking area, let us be reminded that as a student body, we can make a real difference when we work together," Badeaux said.
Nicholls State University president Dr. Jay Clune and Director of Communications Jerad David were on hand to help cut the ribbon.
"A top priority for students is more parking," Clune said. "I commend President Jax Badeaux and his cabinet for taking the lead on this important project to provide more parking for our students.  I would also commend Ms. Danielle Breaux and her team for the fast and excellent work to make almost 90 more spaces available for student parking."
"Parking is a perennial topic of conversation on our campus," David said. "Nicholls is proud of the Student Government Association for taking the initiative to convert a minimally used space into a parking space that can make a greater impact for our students."