When Student Government Association [SGA] president Jax Badeaux first entered office, one of his goals was to soundproof the study rooms at the Ellender Memorial Library. 
Before the panels could be installed, however, the library had to undergo various renovations due to Hurricane Ida, including the installation of new flooring.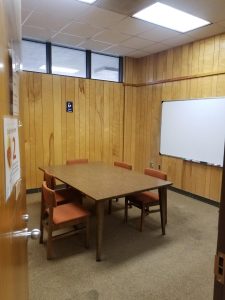 Brandy Burbante, the library director, said, "Originally, the study rooms did not get new flooring because it was not part of the hurricane damage. The carpet was going to stay in there." 
Burbante goes on to say that the new vinyl flooring actually made the old study room carpet look worse. Besides that, replacing the floors would make cleaning easier.
"I approached SGA originally," she said, "to see […] if that was a possibility that they could pay for the flooring to get done in the study rooms." 
With money from student fees, SGA was able to provide the funds to install the new floors. "The whole reason we got it started," Badeaux said, "was because I wanted soundproofing in there, so now we got that and new floors. So that's going to be a totally transformed space." 
Burbante detailed that the library's renovation is nearing its end, though there is quite a lot that still needs to be done. 
In the study rooms, the walls need to be painted and the sound proofing panels installed.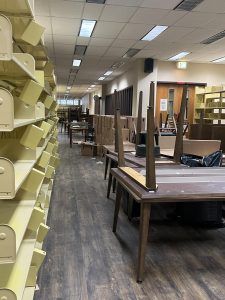 The televisions will also be replaced with smartboards. The elevators are fixed but need to be inspected. Books have been taken off the shelves, which were dismantled to make room for new flooring.
Scrap metal and book boxes are scattered throughout the second floor, leaving hardly any room for furniture.
"I can't open up more space in the library," she said, "because it's just not safe yet. […] Once we're able to move this dismantled shelving out of the way, we will have more spaces to move boxes and maybe make more free space available for students."
Burbante said that the third floor still needs to be reorganized and hopes that part of one department will be ready to reopen by the spring semester.
In the meantime, there are three study rooms as well as some individual rooms open for use on the second floor. However, students need to be accompanied by an employee in order to access the blocked-off area.