At halftime of the Homecoming game on Oct. 7, Nicholls State University crowned a new queen in the time-honored annual tradition. 
When the name was announced, it was Katie Louviere who was chosen to carry on the legacy of Nicholls' past queens.
The moment came as a surprise to Louviere, who assumed any of the other women on the court would have taken home the honor.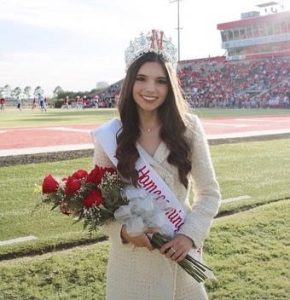 Louviere didn't have time to process her emotions as the only thing running through her mind the moment she was chosen was shock.
She hopes to leave a legacy of kindness and love and strives to do so through every encounter with others.
"I try to give myself fully to anyone that needs it," Louviere said.
The nomination and selection process was a stressful one for Louviere as she had to go through many steps to find out if she had been selected. 
During the selection process, Louviere had to complete an essay application. After the application, Louviere and the other candidates found out if they were picked for an interview. 
From that interview, the committee decided who would be on the homecoming court and Louviere was lucky enough to have been one of those few selected.
Throughout it all, she had nothing but nice things to say about the people involved and added that it was a relief for her when it was over.
 "It felt like we were waiting forever to find out but it was definitely worth it," she said.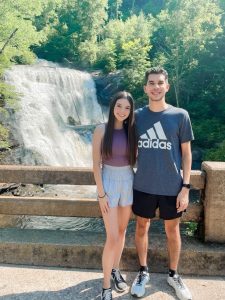 As the Election Commissioner for the Nicholls Student Government Association [SGA], Louviere oversees the school elections. The homecoming king and queen election was one she could not prepare for well. 
For Louviere, it was a very surreal moment to see herself on the other side of the election, on the ballot instead of looking at the names on it.
"I was kind of sad that I had to sit this one out because I look forward to elections every year. I like being behind it and making sure everything runs smoothly," Louviere said. "Being [on the ballot] is even better than being on the other side of it and I am very thankful for that."
Throughout her time at Nicholls, Louviere has joined many organizations, but singles out her sorority, Phi Mu, as the one organization that has helped her most in her journey to grow as a person.
"Phi Mu has had the biggest impact. The girls there have pushed me to be the best that I can be and that's where most of my growth has come from," Louviere said. "At first, I was shy, but through Phi Mu, I've had so many opportunities to grow and I've had so much love and support from them."
Louviere has a few charitable causes that are important to her, but her sorority, Phi Mu's philanthropy is one of the most important to her.
"One of the most important [causes] to me is Children's Miracle Network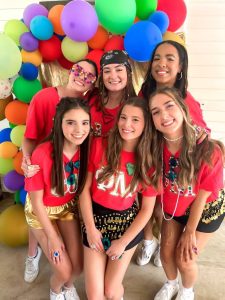 Hospitals," Louviere said. "It is Phi Mu's philanthropy, and I am really passionate about making a difference in the lives of children who are in need."
Louviere said escaping the stress of being a nursing major during the homecoming week festivities was something that was very much welcomed. 
Her favorite event was the Pirogue Races because she came out a winner. Coming from "down the bayou", Louviere has been in many pirogue races, but this one was much more special.
"I got to be with all my favorite people [at the pirogue races] and it was so much fun," she said.
Louviere always thought of Nicholls as an option to continue her education because it was so close to her home in Cut Off, La. and her experiences at Nicholls have only grown her love for the university.
"I came to Nicholls because it was close to home […] I have loved every second of being at Nicholls because of how welcoming everyone is, the opportunities that I have been given, and the tight-knit community of like-minded people that are [at Nicholls]," Louviere said.
Another reason Louviere decided to come to Nicholls was because of its nursing program.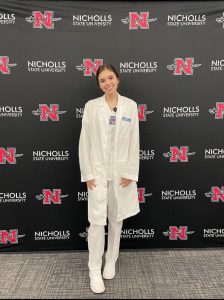 "I have loved being a part of the nursing community at Nicholls because of how encouraging and supportive the faculty is," Louviere said.
Nursing is something she has devoted a lot of her time to at Nicholls and she plans to keep going through nursing even after getting her bachelor's degree.
"Eventually I want to become a nurse practitioner and I want to do that here because I don't ever want to leave Nicholls," Louviere said. 
Louviere has an interest in pediatric care, but she is excited to see what the profession of nursing has to offer her in the future.