Nicholls State University held its fourth annual LGBTQIA+ Ally Rally in the Bollinger Student Union on Oct. 11. 
This rally is organized by the Nicholls Counseling Center, which is a free counseling service for students, staff and faculty. They offer counseling for individuals, couples, families and groups to assist with mental health.
Krysten Dupree is the Assistant Director of the University Counseling Center.
"This event was the brainchild of myself along with our Counselor and Outreach Coordinator, Elnora Parker Vicks. We feel it is important that all of our students feel they are represented on campus. This event is just one of many that we do to support marginalized groups on campus to feel seen and valued," Dupree said. 
Dupree said she believes that holding this event on National Coming Out Day is important in being able to show the counseling center's support for students who are members of the LGBTQIA+ community and reassure that they have a safe space on campus.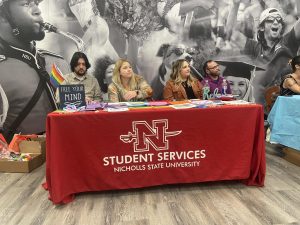 At this ally rally, attendees had the opportunity to hear presentations by Nicholls faculty and staff members such as Todd Keller, Elnora Vicks and Krysten Dupree. 
An open mic took place and students had a chance to share their experiences as queer people. 
A fashion show complete with a runway allowed those present to show off their outfits. 
Tables of giveaways and informational pamphlets decorated the union as well. 
Gabby Blanchard, a senior art major, attended the ally rally. Blanchard said, "Having an event like this is very important. Being a queer person in a very conservative state can be really scary and isolating. Events like this help us find our community, and they help us realize that there are a lot of people here that support us."