A Northwestern State University football player died on Thursday morning after several gunshot wounds.
The Natchitoches Police Department identified the victim as Ronnie Caldwell Jr. The shooting occurred around 1:08 a.m. at the Quad Apartments on University Parkway in Natchitoches, Louisiana. according to the Natchitoches Journal.
Caldwell Jr. was a safety on the Northwestern State football team. He attended Tyler Junior College before transferring to Northwestern in 2022.
Caldwell Jr. recorded 42 tackles in 10 games in 2022. He totaled three tackles in last year's Nicholls vs Northwestern game.
The Southland Conference selected Caldwell Jr. to the Commisioner's Honor Roll in 2022 with a 3.67 GPA.
Northwestern State President Dr. Marcus D. Jones spoke to those affected by Caldwell Jr's death in his address.
"During these difficult times, I extend my deepest condolences and offer my prayers to Ronnie's family and friends," Dr. Jones said according to the Natchitoches Journal.
Dr. Jones mentioned Caldwell Jr's dedication to the Northwestern and Natchitoches community.
"Ronnie's dedication to the community was truly inspiring, as evidenced by him spending the summer coaching a local youth baseball team, teaching those children the values of competition and sportsmanship," Dr. Jones said according to the Natchitoches Journal.
The Nicholls State University game against Northwestern State has been canceled as a result of the death of Caldwell Jr.
Jarad David announced the cancelation of the Nicholls football game against Northwestern State and Family Day festivities in an email to students.
"The Family Day football game is a longstanding tradition at Nicholls, but we must be respectful of the loss that Northwestern State University is experiencing," David said.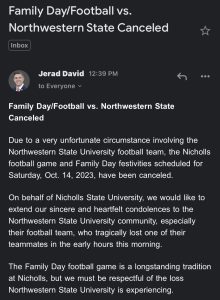 Nicholls Athletic Director Johnathan Terrel released a statement on the game's cancelation according to Nicholls Athletics.
"We are saddened by the news and our thoughts are with the Northwestern State program," Terrel said. "At this time, our main focus is supporting Northwestern State as they navigate this heart breaking tragedy."
The Colonels' next game is a road matchup against the Texas A&M-Commerce Lions in Commerce, Texas on Oct. 21 at 3:30 p.m.
Nicholls Head Football Coach Tim Rebowe declined to comment on the matter.
Follow along with the Nicholls Worth for updates.