Nicholls State University has been working to repair the leftover damage from Hurricane Ida and also has various projects in the works to further improve many areas of campus as well as the athletic centers. 
The Athletic Practice Facility currently in construction behind Guidry Stadium is expected to be complete sometime in September. Funded by Capital Outlay and a donation by the Mannings, the cost of the facility rounds up to $5.3 million. This building includes a covered turf field spanning 100 yards, restrooms, as well as office and storage space.  It has been designed by GFP Architecture and TBT Contracting.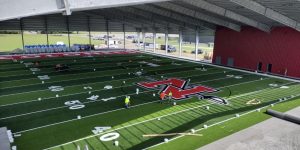 "It's going really well. The turf field was donated by the Mannings. Initially, we didn't have enough money to do the whole building at 100 yards, […] Dr. Clune's really good at getting donors to say–we show them all the work that we did–and say 'Can y'all help us?' and they do! It really helps a lot because people want to know you're doing what you can too," said Danielle Breaux, Director of Facilities and Project Management. 
A new baseball fieldhouse is currently being designed, having been funded by Capital Outlay as well and a private donation. The estimated cost is set to be around $3.6 million. WHLC Architecture is working as the designer of this project. 
The Women's Student Athlete Performance Center, which will cost about $8,275,000, will also be coming soon. With funding from Capital Outlay, the architect selection for this project is to be determined by November of this year. 
"This project is two parts. We're going to renovate the soccer facility and the other part of this project is to build a new softball field house for the girls because they don't have one. Their field house will be located probably right across the street from–we need to do surveys and stuff to make sure– but it'll probably be right across the street from their field," said Breaux. 
Guidry Stadium is getting its restroom roofs renovated thanks to funding from deferred maintenance. The cost of this project will be $100 thousand and the contractor has yet to be determined as of now.
The Ayo Pool is set to be demolished once the contractor has been set. This project will cost $207,000 and also comes from deferred maintenance. 
"We know that it costs a little bit more with the estimates we received already to demo the pool, but we're hoping the other projects will come in under so we can use some of those funds[…] anything extra will go toward Ayo Pool demo," Breaux said. 
Breaux reached out to the board office asking when they would receive the deferred maintenance funds and they said the money is there. They are currently working on a cooperative endeavor agreement. 
"It's typical that they do this," Breaux said. "That way we can manage our own projects and we want to do that because we can move a lot faster. So we're just waiting on that cooperative endeavor agreement, Dr. Clune will sign off on it, we'll send it back. They'll say 'Here's your $500,000, go spend it!" 
Behind Ayo Pool lies a damaged fence from the storm which was originally going to be repaired in time for the beginning of school, but once the deferred maintenance money came through, Breaux said they want to fill in the pool and create an event place for students. 
There are many more projects coming to Nicholls campus so stay tuned. The Nicholls Worth will have more campus construction updates throughout the week.