On Wednesday Aug. 23, 2023, Nicholls State University held its annual Welcome Back Day.
The event is hosted for new and returning students to be able to get their names out there and get involved in the campus community.
Many clubs, organizations, and companies had tables at the event, some with giveaways such as candy and t-shirts.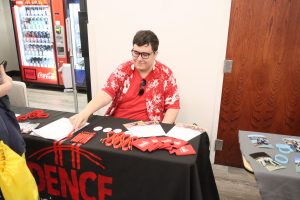 Campus leaders, such as university President Dr. Jay Clune and head football coach Tim Rebowe spoke to the crowd. KNSU radio DJ'd the event and the band, cheerleading squad and dance team provided the rest of the entertainment.
Some of the organizations present were police departments and sheriff's offices. These organizations gave students the opportunity to see what it is like being drunk. They provided "drunk" goggles and allowed students to drive a pedal go kart.
Some students praised the event like junior Timmy Seiller Jr.
"It's a nice opportunity to see what's around campus and what this college has to offer…they had fun games to play and snacks. You get to go around and meet people, it's like one giant party," Seiller Jr. said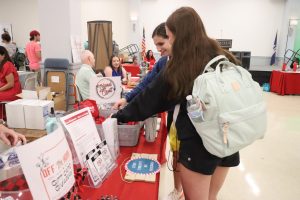 It is also very important for clubs, organizations and sororities because it is how they spread awareness of their group.
"[Welcome back day] is definitely about reaching out to people who don't know the true meaning behind a club or sorority. We do more than just stuff around campus, we do philanthropy events for other organizations to raise money and awareness for what we do outside of school," Katie Ellis said.
Welcome Back Day will happen once again next year.
Stay on the lookout for other school events.