Genesis Physical Therapy Player of the Week: MaCrae Kendrick
Nicholls State University baseball may not be ranked number one in the country, but a Nicholls player made it to number one in something else.
Nicholls baseball's MaCrae Kendrick won this week's Genesis Player of the Week because of a catch he made against Lamar University on Saturday, April 1, 2023.
On the play, Kendrick took off from his second base position at what seemed to be full speed into right field going after a fly ball. Kendrick jumped and made a diving catch to get the Lamar batter, Kevin Bermudez, out.
The catch landed Kendrick the number-one spot on Sports Center's top plays on Saturday, April 1, 2023. For those unfamiliar with the top plays, ESPN's Sports Center picks 10 plays each day and shows them on the hour-long show "Sports Center" on ESPN.
"I'm confident in making that play. I just react to my instincts and let that take over," Kendrick said. "I saw the ball and made the play, so I think that's something you can expect more of from me."
Kendrick is in his first year at Nicholls after transferring from Angelina College, a Junior College in Houston, Tex. In the 2019-20 season, Kendrick played in 15 games as a freshman, but he would see a spike in play time his sophomore year when he played in a total of 54 games. In his Sophomore year, he picked up 70 hits and had a .372 batting average.
"It seemed like they were really changing something around here[at Nicholls] and that seemed like something I wanted to be a part of," Kendrick said. "I wanted to be a part of something new and be the underdog."
At Angelina, Kendrick earned an associate's degree in business administration and is pursuing a bachelor's degree in interdisciplinary studies at Nicholls.
Kendrick says he got his start in baseball when his parents signed him up for little league when he was five. He has been playing baseball since. In his later years, he played travel baseball for Mizouno and at Atascocita High School in Humble, Tex.
"I'm a kid who likes to come on the baseball field to get away from life," Kendrick said. "It's my happy place and it helps to separate everything from the real world."
Kendrick tries to hold himself accountable on the field because he believes that is the way to succeed in this game.
Kendrick says he likes to play video games in his spare time. His favorite games are Call of Duty and MLB: The Show.
Favorite Local Meal:
The Catfish or Redfish from Grady V's
Favorite Baseball Player:
Dansby Swanson
Favorite Baseball Team:
Astros
Kendrick and the Colonels play their next game on Tuesday, April 11, 2023, at home against Southern University. First pitch is scheduled for 6:30 p.m. The game will be broadcast on ESPN+.
Leave a Comment
About the Contributor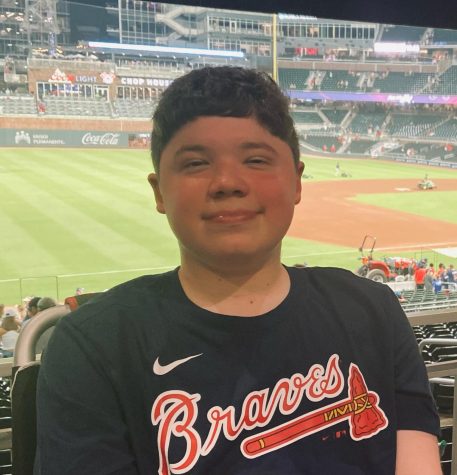 Brogan Burns, Sports Editor
I'm a Mass Communications major and a huge Saints fan. I'm from Chalmette, and I haven't seen my dog in a month.

Fun Fact: I've listened to the...