Genesis Physical Therapy Player of the Week: Alexa Poche'
Junior softball player Alexa Poche' has learned to improve every step of the way and hopes to help others on the team to improve themselves as she did.
She won this week's Genesis Physical Therapy Player of the Week honor for her performance against Northwestern State University last weekend.
Poche' had six hits, one run, and five runs batted in. Her last hit of the weekend resulted in a walk-off RBI in the eighth inning that gave the Colonels their only win of the series.
Poche' is now in her third year at Nicholls State. She had to sit out most games as a freshman, playing in only 21 games, but her Sophomore year is where she would see consistent playtime.
She started in all 48 games for the Colonels as a sophomore. Her output that season earned her Southland Hitter of the Week honors and a spot on the Preseason All-Southland Second Team.
Being one of the more experienced players on the team, Poche' says she has grown to become a leader over time.
"Being on this team has put me in a leadership role," Poche' said. "It makes me look at things differently knowing that a lot of the girls look up to me."
Outside of softball Poche', an allied health major, aspires to be an ultrasound technician.
"I found ultrasound to be interesting and it is such a versatile career path [so] I can do a lot with it."
She does not know if she wants to own her own practice, but says she would rather work in a clinic than a hospital.
Poche' comes from a family of baseball players, but took a different path as she went to Nicholls instead of the University of New Orleans like her dad and brother.
"I broke the family trend," Poche' said. "I definitely was the one that got away."
Family is an important part of Poche's life. She began to tear up as she talked about her mom being her role model.
"Most people don't know this, but she [my mom] came from Honduras. Her work ethic and everything she instilled [in me] like being independent, I look up to her for that," Poche' said. "I know that she's always there for me."
Favorite Singer:
Chris Brown or Don Toliver
Favorite Meal:
Shrimp and Grits and Bananas Foster Pancakes from Another Broken Egg
Poche' and the Colonels play their next game at the University of Southern Mississippi on Tuesday, April 4. The game is scheduled to start at 5:00 p.m.
Leave a Comment
About the Contributor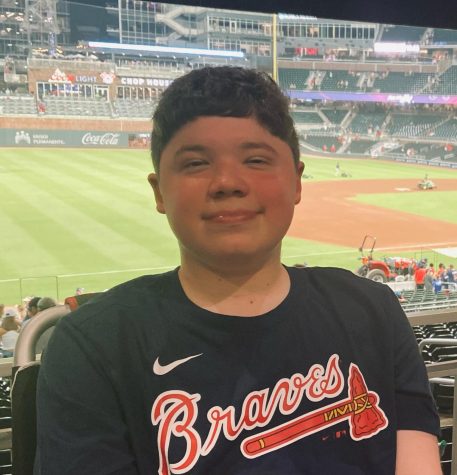 Brogan Burns, Sports Editor
I'm a Mass Communications major and a huge Saints fan. I'm from Chalmette, and I haven't seen my dog in a month.

Fun Fact: I've listened to the...