Dr. Chad Young Receives Educator Award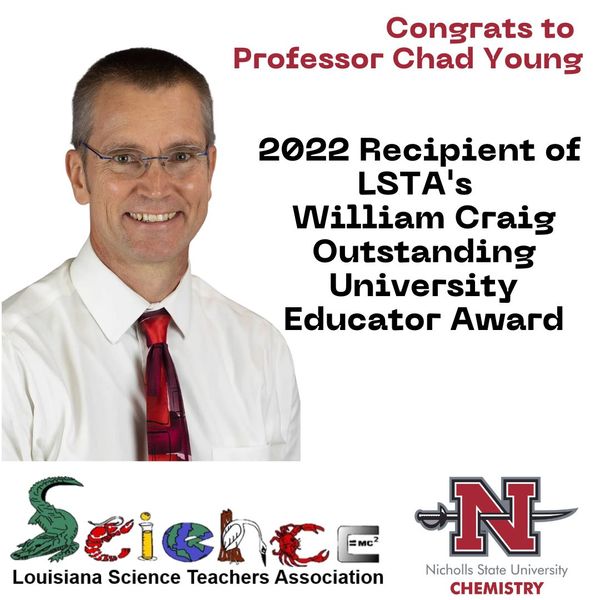 Dr. Chad Young, Professor of Chemistry at Nicholls State University, was recently awarded the 2022 William Craig Outstanding University Educator award by the Louisiana Science Teachers Association (LSTA).
According to LSTA's website, the Louisiana Science Teachers Association has instituted an award to honor the memory of the late Dr. William W. Craig, Professor of Geology at the University of New Orleans.
Dr. Craig's influence on K-12 educators was profound, even though his area of work was that of a research scientist. This award seeks to recognize university faculty members who, like Dr. Craig, have reached out to K-12 educators and made a difference in their careers.
Dr. Young says that this award feels like an acknowledgment of support for the science teachers in Louisiana, and also says he is grateful to be a part of that.
"The science teachers around the state do an immense job in preparing our future scientists and entrepreneurs," said Dr. Young. "I am very grateful for this award in the sethat I'm grateful for our science teachers."
His love for science and teaching made him want to become a professor.
"I was first attracted to science as a kid because of how ordered it was," Dr. Young said. "Everything had a particular place for it and you could predict the nature of the physical world through the study of science. I really loved how you could use math to describe things that you see in the physical world. Science was so predictable, I loved it. When I was in graduate school, I started teaching classes and found out that I also really enjoyed teaching. I like to be with students when they come to understand something new."
Dr. Young earned his Ph.D. from the University of Texas at Austin in 2005 and his M.Div. from the New Orleans Baptist Theological Seminary in 2019.
He began teaching at Nicholls in 2005 as a physics professor and is still a physics professor to this day. He has led numerous research projects for NSF, NASA, LaSIP, MSP and the Nicholls Research Council with interests in star formation, physics education and the physics of human performance.
"To be frank, physics is not the easiest subject to grasp at a high school or university.  It is abstract and mathematical and that's challenging for many.  The history of physics teaching at Nicholls was dominated by two, long-time, very traditional, and very hardcore professors.  After they retired, in comes Chad Young–a doctoral physicist and amiable person, with a student-friendly personality, and, most importantly, experience with student-centered learning.  What a turnaround for physics teaching at Nicholls!  Dr. Young is the latest shining light among all our award-winning faculty in the sciences here at Nicholls.  His award from the LSTA is most deserving," said Dr. John Doucet, Dean of the College of Science and Technology.
Dr. Young received the Nicholls Presidential Award for Teaching Excellence in 2014, which is annually awarded to only one faculty member. In 2017, he received the Nicholls Apple Award for Outstanding Faculty Support for Student Activities.
The William Craig Outstanding University Educator Award consists of a $100 gift certificate, an award plaque and recognition in an upcoming LASER magazine.
Leave a Comment
About the Contributor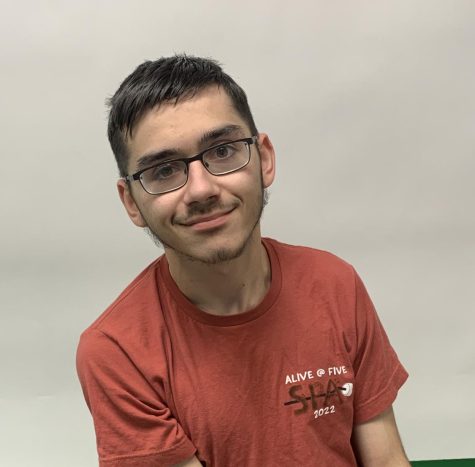 Tory Trahan, Staff Writer
Greetings humans!
I'm Tory, a freshman pursuing a degree in Journalism. I was born and raised in Lafayette. When I'm not living my dream of pursuing,...