Professor Claims Nicholls Could be Releasing Faculty for Passing too Many Students
Nicholls State University professor claims that he is being let go due to having too many A's in his classes. 
Assistant Professor of Geography Joseph Tokosh claims that the university did not renew his contract for the Fall 2023 semester due to him passing too many of his students. 
Social Sciences Department Head David Whitney says that it is not possible for someone to be let go just off of inflating grades.  
"…If someone got released because of grade inflation, absolutely not," Whitney says. "That's not in our policies to do."
Tokosh proceeded to send an email to his current students describing his situation.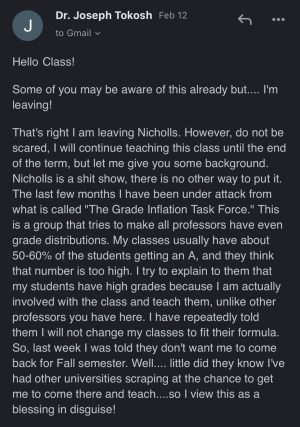 "They [students] usually have above 50% A's in my classes," Tokosh states. "…I was told that number is way too high, and they're trying to bring it down to 30%."
Tokosh says that the reason his numbers are so high is because he is very involved in his classes and that he spends hours prepping, grading and giving feedback to his students. 
Tokosh met with his superior multiple times and said that nearly every meeting they had over the past year had grade inflation brought up. 
Tokosh said he was told that "certain administrators campus wide" had been told that their grades were too high. 
"…I'm not going to change anything about my grading style to appease what you're saying because these are not policies that are set at the university right now." Tokosh says.
Tokosh was told by an unnamed professor there is a "Grade Inflation Task Force" that was made off the record.
This task force consists of members of the university, such as administrators, and they are pushing the idea of bringing the amount of A's down to 30%. 
On Feb. 7, Tokosh was called into a meeting with the Dean of the College of Liberal Art, Jean Donegan, where he was told his contract was not being renewed after the Spring 2023 semester. 
"I put two and two together and that's the reason I see why they did that," Tokosh states. 
Grade inflation is the idea of raising students' grades and lowering the standards for rewarding students. 
Whitney said that while Nicholls is dealing with the issue of grade inflation, the campus does not have a "Grade Inflation Task Force." 
Whitney explained that many colleges have seen a rise in grades. Many people blame the COVID-19 pandemic on the rising grades due to professors becoming more flexible, but that Nicholls grades were starting to rise before the pandemic. 
"There's been talk around the university over the last year about bringing awareness to the issue," Whitney says. "…It [grade inflation] is not a part of our evaluations in a formal way."
Whitney explained that the Faculty Senate discussed grade inflation on Nicholls campus as a body, but the senate does not have the power to create a policy. They can only make recommendations to the university. 
Whitney went on to say that there has been no recommendations by the Faculty Senate about grades in any way. 
After the Faculty Senate makes a recommendation, the administration has to accept the recommendation before they can act on it.
Whitney said that there is no recommendation made regarding a formal policy about grade inflation. 
"It's possible that you can have someone who is inflating grades who committed an offense that is fireable," Whitney explains.
Departments have standards on what a faculty member would have to do in regards to firing someone. Whitney made it clear that inflating grades is not something that is on the list of fireable standards. 
"To the extent grade inflation comes into play…would be if someone had high grades, and I told them something about it and they made no changes," Whitney says. "In the end, in your evaluation, that is something under teaching that could come up as part of a big score…"
KNSU will be releasing a video on the matter in the upcoming week. 
Leave a Comment
About the Contributor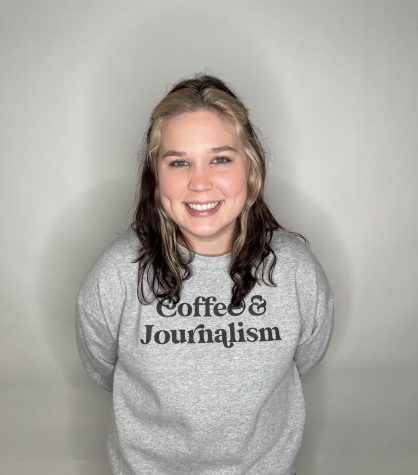 Sally-Anne Torres, Online & Print Managing Editor
My name is Sally-Anne Torres. I'm a junior at Nicholls State studying journalism. I have had a love for informing people about what is happening in the...