Genesis Physical Therapy Players of the Week: Aspen and Kennedi Steele
This week's Genesis Player(s) of the Week are Aspen and Kennedi Steele.
Aspen and Kennedi are sisters who compete with the Nicholls State University volleyball and beach volleyball teams.
The pair won this week's honors for their performances in the Clash on the Cajun Bayou this past weekend. The Steele sisters, who play as a duo, won two of their matches in straight sets against Lagrange College and the University of Loyola-New Orleans.
As children, the duo started out by playing many sports. However, when they got to high school, they had to pick a sport to specialize in. Ultimately, they chose to pursue volleyball over soccer.
Around the time of starting high school, the sisters met their mentor, Liz Masakayan. 
"We started taking private lessons from her for indoor [volleyball]. She's been an amazing influence on us and a huge help," Kennedi said.
"She [Masakayan] is our volleyball moral compass, she has a great answer for everything," Aspen said.
The Sisters graduated from Nevada State High School, a public charter school, in Henderson, Nev. Kennedi graduated in 2020, while Aspen graduated a year later. They finished their high school volleyball career at Durango High School, while taking classes at Nevada State.
Outside of school, the two played club volleyball for Vegas United. With Vegas United, Kennedi finished second in the Las Vegas Classic in 2020 on the 18 year-old team.
At their first colleges, the University of Arkansas at Little Rock and Pepperdine University, Aspen and Kennedi played in a combined nine games which prompted them to enter the transfer portal. They entered the portal with the intent of going to the same school.
"The both of us didn't have the best experience at our old schools, so, when we decided to enter the transfer portal[…] we wanted to play together," Kennedi said. "When Nicholls fell into our laps, we said let's do it."
The sisters had never been to Louisiana, and they figured that now was as good of a time as any; they decided to transfer to Nicholls.
As some may have gathered, the two love being around each other. The pair call themselves best friends.
Although both sisters are currently majoring in Business, Aspen has plans of interning over the summer and seeing if the business field is for her; she has plans to be a firefighter if the business world does not work out for her. While Kennedi, on the other hand, is unsure of her future.
Aspen loves to cook, and she always makes sure that Kennedi, who is a vegan, can enjoy her food too.
"She'll make me this gluten-free, dairy-free cake because I'm vegan and I don't have that many options," Kennedi said.
Aspen's favorite food to cook, however, is tilapia or salmon. She says that her parents "hype her up" and tell her it's the best food they have eaten. 
Kennedi and Aspen are Nicholls' number one pair, which means that they play the other team's best duo. They said that they invite the competition even though they will go up against the number one ranked duo in the country when they play LSU in April.
The Steele Sisters and Nicholls beach volleyball play in five matches this weekend in Houston, Tx. at the Southland Roundup. Their first game of the weekend is against San Jose State University at 9am on Saturday.
Leave a Comment
About the Contributor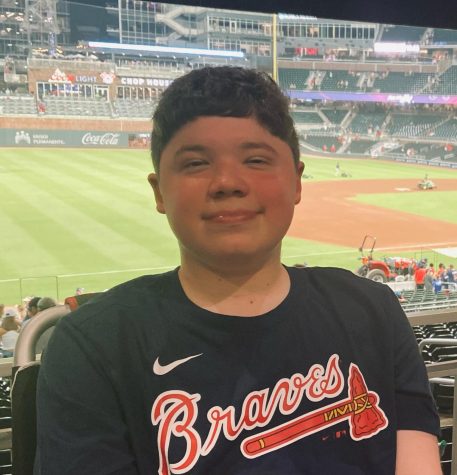 Brogan Burns, Sports Editor
I'm a Mass Communications major and a huge Saints fan. I'm from Chalmette, and I haven't seen my dog in a month.

Fun Fact: I've listened to the...