Genesis Physical Therapy Player of the Week: Constanza Cruz
This week's Genesis Player of The Week is Constanza Cruz.
Cruz is a sophomore student athlete on the Nicholls State University women's tennis team.
She won this week's honors for her performances against Southern University, Mississippi Valley State University, and the University of Southern Mississippi. 
Cruz won three of her four singles matches and scored at least four points in the two sets she lost.
A match can go up to three sets with the player who wins two sets winning the match. To win a set, a player must score at least six points and be two points ahead of their opponent. 
Cruz is an international student from Buenos Aires, Argentina.
Growing up, Cruz was in an athletic family. Her dad and brother both played basketball, but her dad, Fernando Cruz, went on to become a sports medicine doctor and treats professional athletes. 
Her dad ended up being the reason she got into tennis because he wanted her to be an active child.
Being an international student, she says that the transition to life in the United States was easy.
"Everyone made it easy for me: teammates, coaches, professors, and classmates," Cruz said. "It's like a normal day, I don't feel like I'm not home anymore."
Though she feels at home at Nicholls, Cruz still misses home. Her family and the food being two of the main things she misses.
Cruz says she is very structured and added that, at times, she can be too organized.
"Even in the smallest things, I have to be 100 percent, so sometimes it gets me a little stressed, but it's mostly positive," said Cruz.
"Being a student athlete is a unique experience," Cruz said. "It does require some time management to stay ahead of classes."
Cruz added that Nicholls makes her feel important for being a student athlete because she represents the university as a whole.
Cruz is studying for a bachelor's degree in fine arts with a concentration in graphic design.
After she graduates, Cruz wants to stay in the U.S. She says she wants to continue growing as a person here in the U.S.
Cruz and the women's tennis team play their next set of matches on Sunday, March 5, at Prairie View A&M University at 11:00 a.m.
Leave a Comment
About the Contributor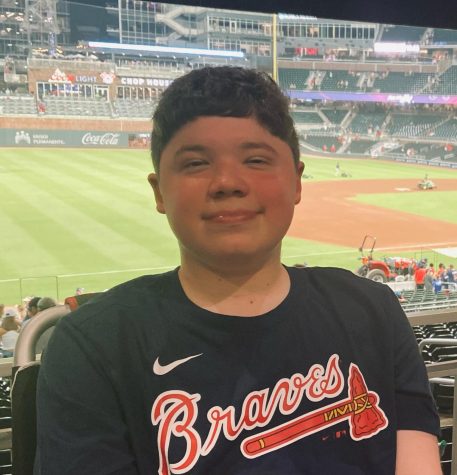 Brogan Burns, Sports Editor
I'm a Mass Communications major and a huge Saints fan. I'm from Chalmette, and I haven't seen my dog in a month.

Fun Fact: I've listened to the...