Senior Spotlight: Manny Littles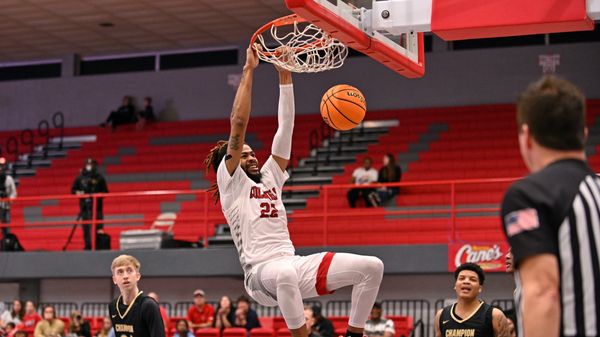 Growing up, Manny Littles sought the game of basketball as a sense of comfort in hard times during his childhood. Many years later, he is suiting up for the final few games of his collegiate career.
Manny Littles was born in Trenton, NJ to his parents Yvonne Cooper and Emmitt Littles. He has seven siblings, six brothers and one sister. He is pursuing a degree in sports management.
Littles didn't have the greatest of childhoods. He was raised by his mother and his little brother's family. His biological father wasn't part of his life. He passed away when Littles was 10 years old, and never got the opportunity of meeting him.
"Growing up, it was a struggle," said Littles. "We didn't have much. When I was about 13 or 14, I met my biological father's side of the family."
He moved to Georgia with his grandfather when he was 14. "I started to get back on the right path," Littles stated.
During the summer of his eighth grade year, Littles started playing basketball, a game he would learn to love.
"That's when everything took off, basketball-wise," he said.
"Growing up as a kid, every time I would play basketball at the parks in New Jersey, it would take my mind off of some things that were happening at home," Littles stated.
When he moved to Georgia, basketball opportunities opened up for Littles.
His favorite player has always been Kevin Durant. "At his size of seven feet, to be able to do the things he does, a lot of people can't do what he does. Being a long guy, seeing someone like Durant being able to do things like a guard, it's impressive. I would like to mimic my game like him, from an offensive standpoint."
Littles played basketball at Lannet High School in Lannet, AL. There, he won three state championships for the Panthers. He played small and power forward, as well as center at times.
Littles earned regional MVP in his junior year. In his senior year, he was named a finalist for the Class 2A Player of the Year, as well as being named State Championship MVP.
Littles took his talents to the University of North Alabama after graduating high school, playing there for three seasons. In his year, Manny started in 23 contests, averaging 29.1 minutes per game. In addition to his playing time, he racked up 9.4 points per game, as well as posting nine double-doubles. He led the team in rebounds with 9.9 per game, totaling 228 total rebounds, and led the team in steals with 20 on the season.
In his junior year, Manny started in 23 contests, averaging 29.1 minutes per game.
In addition to his playing time, he racked up 9.4 points per game, as well as posting nine double-doubles.
He led the team in rebounds with 9.9 per game, totaling 228 total rebounds, and led the team in steals with 20 on the season.
After the 2020-2021 season, Littles decided it was time for a change of scenery. He took his talents to Thibodaux, LA at Nicholls State University.
In his first season with the Red and Grey, Littles posted back-to-back double-doubles against two power five schools: Oregon State and Purdue.
Later that season, he recorded 15 rebounds in a game against the Wisconsin Badgers.
Littles netted seven double-doubles that season, as well as posting 8.8 points per game and a team-high 7.9 rebounds per game, ranking fifth in the Southland Conference at the time.
This season, he is playing in his fifth and final year of eligibility, and his second year with the Colonels.
Littles is currently averaging 7.8 points per game, as well as 6.8 rebounds per game, including a season-high 16-rebound performance against Trinity Baptist College on Dec. 19.
He was named to the Preseason All-Southland Second Team prior to the start of the season.
He suited up for his final home game on Wednesday, March 1 against Lamar.
"It's bittersweet," Littles said, "It's always sad when you know it's your final home game, but then it feels good that I left my mark in here. I come into Stopher, I see the NIT banner, the conference championship banners. Hopefully, we can put up one more before I leave."
Littles also said he is a father to a little girl, and he hopes she can watch him bring home one more trophy.
Before getting into his gameday mindset, Littles likes to eat. You can find him at Wendy's pre-game, grabbing a 2 for $6 meal, including a spicy chicken sandwich, and a 10-piece spicy nugget. "It's probably not the best option, but it's right around the corner." he joked.
Being at Nicholls has helped Littles become a better person. One of the main things he focused on this year was becoming a better leader, as well as controlling his attitude.
"When things don't go your way, everybody tends to get upset," he said. "It's about how you go with it and how you do things," he added.
"I sometimes say the right or wrong things, but with me being a competitor, it'll sometimes come off as aggressive. By controlling my attitude, I can encode messages in a better way, that way it comes out calmer, and not so aggressive."
His teammate, sophomore Mekhi Collins, said that Littles is a "very impactful player, very hard-working, and doesn't give up. He is a great person on and off the court and brings the energy this team needs."
"The production speaks for itself, he's like a walking double-double," said Head Coach, Austin Claunch. He said he has been very proud to see Littles grow as a leader and an ambassador for the program.
Littles also had a huge influence from his time here at Nicholls: Rhyge Lyons. He graduated as a fifth-year senior last year.
"I still don't know everything, so I'll call Rhyge and get an answer. He's always been here with me, on and off the court."
Littles said that he'll miss his teammates after he leaves. He built a family with them, a "brother culture" as he called it.
"When I go somewhere else, possibly in another country, it's not about being here with my bros (teammates), it's strictly business. I'm probably going to be in a country where nobody speaks English but me. You won't have the good times he had with his teammates, so there are memories and good times to cherish being here."
The Colonels punched their ticket to Lake Charles for the 2023 Southland Conference Tournament earlier in the month.
However, the Colonels can cheer Littles on one more time in Thibodaux this Wednesday, March 1 against Lamar.
The game is scheduled to start thirty minutes after the conclusion of the women's basketball game at Stopher Gymnasium.
ESPN+ will have game coverage as usual, as well as ESPN Radio New Orleans, 100.3 FM.
Leave a Comment
About the Contributor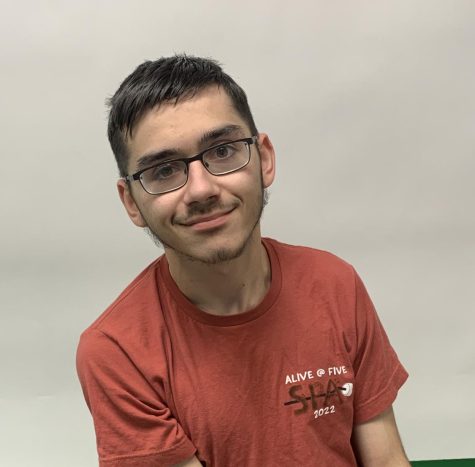 Tory Trahan, Staff Writer
Greetings humans!
I'm Tory, a freshman pursuing a degree in Journalism. I was born and raised in Lafayette. When I'm not living my dream of pursuing,...