Systems are Down at Colleges Throughout Louisiana
On the weekend of Feb. 25, Southeastern Louisiana University was targeted by a cyber attack that left the school without power and internet.
Since then, Southeastern has been figuring out how to handle the attack. Students are resuming classes like normal, just without the internet.
"I don't think I realized how much we actually rely on the internet until this happened," SLU Sophomore Ollie Diamini told 4WWL.
The attack also resulted in students not being able to swipe their school cards to get into their dorms or get food around campus.
"My (swipe) card wasn't working to give me access into my student building as well as yesterday it wasn't allowing us to get food," Diamini told 4WWL.
As of Tuesday night, Southeastern's system is still down, though State Police and the governor's Office of Homeland Security are looking into the attack.
Louisiana State University (LSU) also experienced internet outages on Monday, though those issues have been resolved.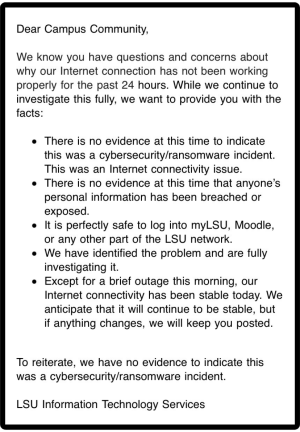 Dillard University made students evacuate after losing power in some residence halls on Sunday.
They are holding classes online for Tuesday and Wednesday. Though these instances don't seem to be connected.
Entergy sent an electrical contractor to Dillard and explained that three fuses malfunctioned. Their replacement fuses have to be delivered from outside New Orleans, 4WWL reported.
Nicholls State University is not at risk according to the Director of Communications Jerad David. 
The university has safeguards in place and checks the university's system regularly to ensure the safety of students' information. 
"There are firewalls in place so that anything within the university's network is protected from the outside," David said. "…We have measures in place, and people in place that will make sure our systems and our information are secure." 
As of March 8, 2023, Southeastern's Wi-Fi and website is back up and being used by students once again. 
Leave a Comment
About the Contributor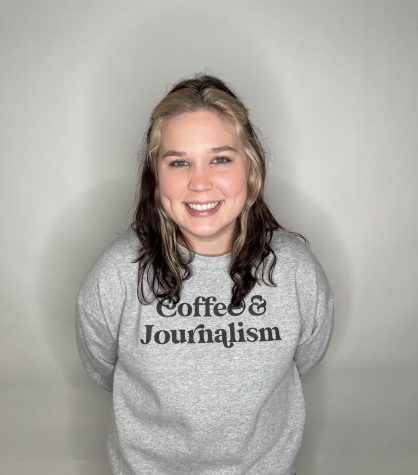 Sally-Anne Torres, Online & Print Managing Editor
My name is Sally-Anne Torres. I'm a junior at Nicholls State studying journalism. I have had a love for informing people about what is happening in the...