Genesis Physical Therapy Player of the Week: Caleb Huffman
This week's Genesis Physical Therapy Player of the Week is Caleb Huffman.
Huffman is a senior guard on the Nicholls State men's basketball team from Broken Arrow, Oklahoma. He won this week's honor for his performances against the University of New Orleans and Southeastern Louisiana University. He was also named the Southland Conference basketball player of the week.
In his two games this week, Huffman, averaged 24 points per game, five rebounds per game, and three steals per game, as he led the team to two conference wins.
Huffman was around the sport of basketball ever since he was a child. Growing up with a dad and an older brother who played college basketball, he learned the sport early on.
That early start in the sport led him to a successful high school career. Huffman went to the Oklahoma high school state playoffs three times at Broken Arrow High School. Including his senior year when led the team to a 25-3 record. This season earned him the Frontier Valley Conference Boys Basketball Player of the Year award.
Huffman started his collegiate career at Iowa Western Community College, a junior college. He played two seasons there before transferring to Central Michigan University, a division 1 (D1) school; D1 schools compete at the highest level of collegiate sports.
Going to a junior college out of high school, Huffman says, was humbling. However, he says that he would not change the experiences he had, and that he was blessed to have those opportunities.
After just one year at Central Michigan, Huffman decided to transfer once more, citing a coaching change.
"The new coach wanted to bring in his guys, so everyone ended up leaving," Huffman said.
Huffman was attracted to Nicholls after seeing that Head Coach Austin Claunch was on the younger side. Coach Claunch's high energy, Huffman felt, was what he needed and that it would improve his game.
"His teams are known to play hard, and that makes an athletic person like me flourish because I can use my speed and athleticism more."
One interesting thing about Huffman is a bit of an odd talent that he possesses: the ability to juggle while riding a bike.
"My grandma came (home) with some hacky sacks from Dave & Busters when I was around six or seven and I just started juggling," Huffman said.
Caleb Huffman and the Colonels look to take on the University of the Incarnate Word in their next game on Saturday, Feb. 18, at 3:00 p.m.
Voting for the Genesis Player of the Week is every Sunday on the Nicholls Worth Instagram, @thenichollsworth. Be sure to check out next week's nominees!
Leave a Comment
About the Contributor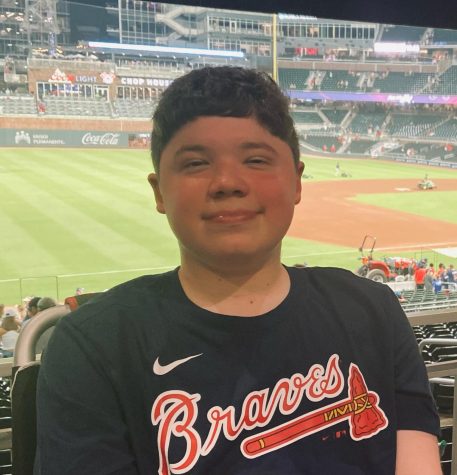 Brogan Burns, Sports Editor
I'm a Mass Communications major and a huge Saints fan. I'm from Chalmette, and I haven't seen my dog in a month.

Fun Fact: I've listened to the...