Southeast Journalism Conference Hosted at Nicholls
After a two-year pause because of COVID-19, the Southeast Journalism Conference (SEJC) returned on Feb. 9-11, 2023.
It was hosted for the first time at Nicholls State University and was co-hosted by Southeastern University.
Nicholls was supposed to host the event in 2021, but COVID-19 was still a demanding issue. The following year, Hurricane Ida prevented Nicholls from hosting the conference.
The SEJC is a vibrant learning community of collegiate journalists in a variety of media disciplines honing their craft through professional development and the Best of South competition. The group consists of 38 institutions from Louisiana to Tennessee.
Guest speakers were brought in to present various topics around the world of journalism. Three Nicholls professors from the Mass Communication Department were able to have sessions.
Assistant Professor Nicki Boudreaux, spoke to a room full of future journalists in a roundtable session discussing student media leadership. Assistant Professor Lance Arnold, spoke about drones and how the news industry started using drones to capture footage, and Assistant Professor Laure Kasovich, spoke about why multimedia stories matter.
Former Nicholls Worth writer and 2006 Nicholls graduate, Chris Singleton, spoke about how he started at Nicholls and went to work for the Saints.
He also spoke about how you can start in a little town like Thibodaux to standing in an elevator with filmmaker Spike Lee and rookie running back and Heisman Trophy winner Reggie Bush during the team's first game back at the Superdome after Hurricane Katrina, which many people affiliate with the blocked punt that sent the Superdome into a frenzy of excitement.
The keynote speaker for SEJC was Gerald Gruenig, who graduated from Nicholls in 2013, and is a news anchor for KLFY, the CBS affiliate in Lafayette.
Gruenig is famous on social media with his segment "Acadiana Eats" where he pops up at underperforming restaurants around Acadiana and gives them a voice and spotlight, hoping that it'll help the restaurant with sales and customers.
He said he was grateful that he was chosen to give the keynote speech.
"It's a surreal feeling being here tonight, being able to talk to a bunch of journalism students that are thinking about working in this field of communication," Gruenig said.
Gruenig described himself as an unscripted speaker, meaning that he doesn't prepare a speech. This was shown by his energetic and entertaining, but educational speech about journalism.
"I want everyone to know that television doesn't have to be what everyone thinks it is. You can invest your time, put your passion into something, and make it whatever you want," said Gruenig.
Gruenic stated that he and his cameraman John Weatherall go out in the city with a Bluetooth microphone and an iPhone to get his content out there, both for social media and for KLFY.
"Having Gerald as the keynote speaker would give the students an opportunity to hear from someone who is engaged in social media as well as traditional journalism," Head of Mass Communication James Stewart said.
Stewart also called Gruenig a great speaker. He expressed his excitement about the university being able to host this conference, saying that "…It'll give us an opportunity to showcase our facilities while being able to get our name out there."
On-site competitions were held in Talbot Hall and the Jean Lafitte Center, where the students showed off their skills and knowledge in competitions such as TV Anchoring, quizzes on current events and law and sports photography.
Nicholls students were able to compete for practice but were not able to place or win the on-site competitions, but that didn't stop Nicholls from bringing home some certificates for the Best of South competition.
KNSU-TV brought home the 8th best award for Best TV Newscast, All-N. Station Manager, Hannah Robert, also brought home the 6th place award for Best TV Journalist.
"I am grateful for having received these awards. Since we haven't been to other campuses because of COVID and Hurricane Ida, I didn't think that what we were doing with All-N and other programming was special enough to be honored. These honors validated my choice to major in journalism and my questions for the future. I am where I am meant to be!" said Robert.
KNSU 91.5 FM, which recently celebrated its 50th anniversary on-air, brought home a pair of placings: 3rd best radio station and 7th best audio program.
"It feels really good, it's fulfilling. It shows that we're doing something right. I'm proud of everybody that works here at the station. It's their hard work that makes the station go. I'm really happy that we were recognized," said KNSU Station Manager Matthew Oubre.
It was revealed during the awards banquet that Troy University in Alabama will be the host of the 2024 edition of the conference. No dates were given however.
Leave a Comment
About the Contributor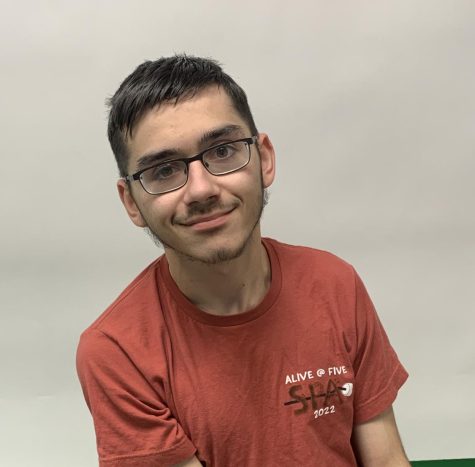 Tory Trahan, Staff Writer
Greetings humans!
I'm Tory, a freshman pursuing a degree in Journalism. I was born and raised in Lafayette. When I'm not living my dream of pursuing,...