Genesis Physical Therapy Player of the Week: Marek Nelson
This week's Genesis Physical Therapy Player of the Week is Men's Basketball player Marek Nelson for his performance against Houston Christian University on Saturday, Feb. 4.
Though it was his game this past Saturday that granted him the award, Nelson has kept up his output over the last two games.
Over these couple of games, Nelson has averaged 23.5 points per game, which accounted for a staggering 30% of the team's points over that span. Nelson was also responsible for 16 rebounds, four assists, and two steals in those games.
Nelson is a Graduate (grad) transfer on the Nicholls State Men's Basketball team. For those who may not know much about the world of college sports, a grad transfer is a student-athlete who switches schools after graduating with a bachelor's degree. The player continues their studies toward a Master's degree; per NCAA guidelines, an athlete must be enrolled in nine credit hours as a graduate student to continue playing at the collegiate level.
Born and raised in Plano, Tx. Nelson started his high school career off at Plano East High School, where he garnered first-team all-District 6-6A honors before transferring to Sunrise Christian Academy in Wichita, Ks.
According to Nelson, transferring to Sunrise put him into the national spotlight and strengthened his relationship with himself and his religion. "I learned a lot about my faith and myself; I got a lot better at basketball, and obviously there was some national exposure to that," Nelson said.
Nelson says that switching high schools was even harder than transferring to a new college. "There's a lot of resources in place to help during the transfer process […] in college; but in high school, there is less of that," Nelson said.
Although his trip to campus during the transfer window was brief, Nelson said the thing that sold him on becoming a Colonel was a single statement made to him by Head Basketball Coach Austin Claunch. Nelson said, "Coach Claunch told me that they were going to win another conference title with or without me."
Centering his decision on the team and not academics, Nelson made up his mind that Thibodaux was the place he would finish his collegiate career.
Though he wanted to center his career at Nicholls around basketball, academics have always been important to Nelson. In fact, he made the Dean's list in the spring of 2019 at Western Kentucky.
"To take care of my academics, it comes down to turning things in on time and showing up where you need to show up; just doing the things you're supposed to," Nelson said.
Nelson has a bachelor's degree in business finance and a master's degree in marketing; he looks forward to the opportunities that these degrees will afford him, saying, "Once you earn those (degrees), those are yours for life."
Nelson says that he is a very family-oriented person. Part of that family is an adopted brother from Russia,  who happens to have been born without fully grown legs.
"When he was little, he was always at my basketball games," Nelson said. He looks forward to having his brother and the rest of his family attend a game at the end of February.
Leave a Comment
About the Contributor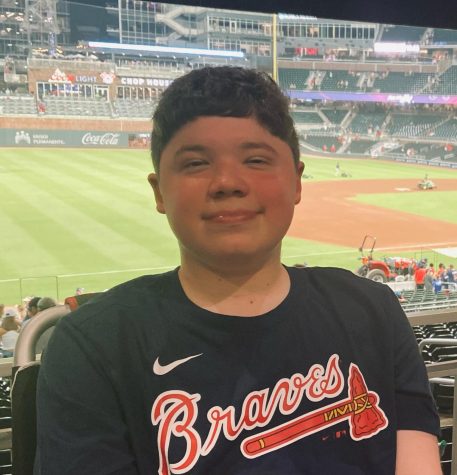 Brogan Burns, Sports Editor
I'm a Mass Communications major and a huge Saints fan. I'm from Chalmette, and I haven't seen my dog in a month.

Fun Fact: I've listened to the...