Genesis Player of the Week
Carla Bouygues is this week's Genesis Player of the Week for her performance against the University of North Alabama.
Bouygues won in straight sets, with a score of 6-0 in each set. This was her first match of the season.
During matches, she says that she has to stay focused on getting a point for the team.
In collegiate tennis, each player competes against another player, with the winning player gaining one point to the team's overall score. Her entire goal during each match is to clinch a point for her squad.
Bouygues is a senior women's tennis player from Bout-du-Pont-de-Larn, France, which is located in the country's southern region near Toulouse and the border with Spain.
As a child in France, Bouygues got her start in tennis after watching her father play. She learned to love the game soon after she started.
"I never tried any other sports," said Bouygues. "I always played only tennis."
Bouygues decided to come to the United States and Nicholls State University because it was a great combination of studies and sports.
"In France, we cannot do both," said Bouygues. "It's really hard."
Adjusting to a new place and culture was not easy for Bouygues, especially the grueling process of learning and adapting to a new language. Bouygues believed that her English was not good when she first arrived.
Being around other international players helped Bouygues transition to her new lifestyle. "We were all experiencing the same thing at the same time," Bouygues said. "When I came, almost the whole team were Frenchmen […] we were discovering everything together."
Bouygues said that she grew up faster at Nicholls and in the U.S. than she would've back home. The differences in culture, she said, forced her to learn and become a more well-rounded and individual person.
Food, however, happened to be the thing that she missed the most. The food is very different at Nicholls, according to Bouygues, and that is one of the reasons she loves to go home.
Bouygues has decided to stay a fifth year at Nicholls to pursue her Masters in Business Administration (MBA). After earning her MBA, Bouygues has aspirations of becoming a Chief Financial Officer (CFO).
Bouygues and the Nicholls Women's Tennis team have an upcoming match against the University of Louisiana-Monroe at 2 p.m., on Sunday, Feb. 5, 2023, at the Colonel Tennis Complex.
Leave a Comment
About the Contributor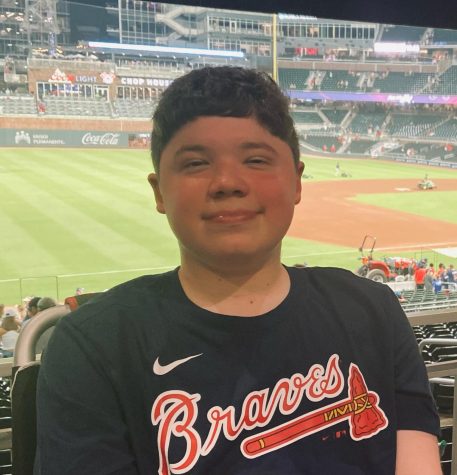 Brogan Burns, Sports Editor
I'm a Mass Communications major and a huge Saints fan. I'm from Chalmette, and I haven't seen my dog in a month.

Fun Fact: I've listened to the...