"Better Nate Than Never" Review
On March 15, Disney+ released a new original film, "Better Nate Than Never." The film follows 13-year-old Nate Foster as he tries to pursue his Broadway dreams. Despite being unpopular in school, and being looked down on by other kids—one being his own brother—for liking musicals, it does not stop Nate from fantasizing about his dreams to be a big Broadway star someday. 
Although Nate has these big dreams, he struggles to even get casted for a decent role in his middle school plays, bruising his ego and lowering his self-esteem. However, when Nate's parents go out of town for the weekend, he and his best friend, Libby, decide to chase Nate's dreams.
Nate's parents decide to celebrate their anniversary by taking a romantic trip for the weekend.  Libby informs Nate that during the same weekend, open auditions are being held in New York for a new Broadway musical: Lilo and Stitch.  
Nate and Libby sneak out and take an overnight bus to New York so Nate can audition for the musical.  Nate tells his brother, Anthony, he is spending the night at Libby's house to avoid any suspicion.  
During their adventure, Nate and Libby run into many funny obstacles, one of which includes Nate accidently becoming Tik-Tok famous by performing on the streets. These small obstacles are what makes the film so entertaining.
While in New York, they also run into Nate's estranged aunt, Heidi, played by Lisa Kudrow. Aunt Heidi is a Broadway star who lives in New York. She and her sister (Nate's mother) have not seen each other in ten years due to an incident that caused a huge fight between the two. Instead of attending Nate's parents wedding, Aunt Heidi chose to perform in her Broadway debut. Neither of them understood the other's decision causing them to not speak for years.
My favorite part of this film was watching the bond grow between Nate and his aunt. Nate and Aunt Heidi share the same passion—Broadway. Therefore, they immediately formed a connection. While in New York, Nate spends his nights at her house staying up late talking about his goals. She also gave Nate tips on how to do well in his audition and raved about how proud she is of him.
Nate impresses the casting directors during his audition and gets a call back.  During his final audition, Aunt Heidi, Libby, and Anthony all watch proudly from above in the auditorium. Nate's audition impressed Anthony so much that he had a different perspective on Nate. He no longer looked down on him or thought he was weird for loving musicals. Instead, he saw Nate's raw talent while chasing his dreams.
I think this film shows kids that you should never give up on your dreams. Although Nate experienced rough times for loving the theater, he did not let that stop him. He went above and beyond to achieve his dreams, and I think that the message of this film is important for kids. 
Leave a Comment
About the Contributor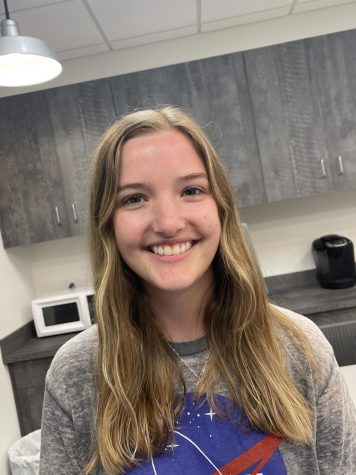 Raegan Chiasson, Social Media Manager
I'm a Marketing major with a concentration in advertising. I'm from Thibodaux.

Fun fact: If I could travel anywhere in the World, it would be Greece.