"The Adam Project" review
Netflix's newest smash hit, "The Adam Project," is another example of Ryan Reynolds and many large stars coming together to create an enjoyable, simple film. Although it may not be loved by film critics or win awards, it is a great way to spend an hour and a half on a rainy afternoon. 
This review will NOT contain spoilers.
The general basis of this comedic sci-fi film is that Adam Reed (Ryan Reynolds) is a time traveler from 2050, and he accidentally lands in 2022 while on a rogue operation. During this time, he coincidentally bumps into his twelve year old self (Walker Scobell). This leads to his younger self following him around and helping him complete his crazy, futuristic mission of changing the past to affect the future. 
In general Ryan Reynolds fashion, the film received many comedic opportunities, but it also contained some very serious, intense personal scenes where the film touches on the relationship between mothers and sons. It also touches on the potential issues that arise in single parent households and to children that lose a parent to a health issue or accident. 
One of my biggest takeaways from this film was the impressive performance by Scobell. He played the part of a young Ryan Reynolds in the most perfect way that someone could ever picture. During his very first scene, you can tell that he is playing Ryan Reynolds because of his witty, smart allylic comments and dirty sense of humor. It is also important to note that this was his acting debut. 
Reynolds was not the only major star in this movie, as it also contained Mark Ruffalo (Louis Reed; Adam Reed's father), Jennifer Garner (Ellie Reed; Adam Reed's mother), Zoe Saldaña (Laura Shane; Adam Reed's wife), and Katherine Keener (Maya Sorian). 
Although every star did a great job in their role, Garner truly stole the show. The relationship between Adam and Ellie was highlighted throughout the film, as it showed the strain of the surviving parent trying to raise a child alone, while still grieving the loss of their spouse. The film did an impeccable job of showing her personal struggle with the death of her husband, while also worrying that she is not enough for Adam, or that she is doing a bad job of raising him. 
The action sequences in this film were also a strong point, as they did a tremendous job with combining modern day combat with the idea of futuristic technology. Speaking of the technology, the devices that Adam brought from 2050 were maybe the most interesting part of the film. These things include a real life lightsaber, a drone controlled by a virtual reality headset and gloves, and of course, a spaceship. Another cool note was that the spaceship would only allow Adam to fly it because it is programmed to his DNA. It also can read if he is injured or not, and it would not let him fly unless he was healthy. It is a super interesting idea that in the future everything will be programmed to us by our DNA and/or our fingerprints. So, only you could drive your car or use your phone. 
Overall, this was a very entertaining film. If you have enjoyed previous action-comedy films from Ryan Reynolds, then you will certainly love this film. 
Leave a Comment
About the Contributor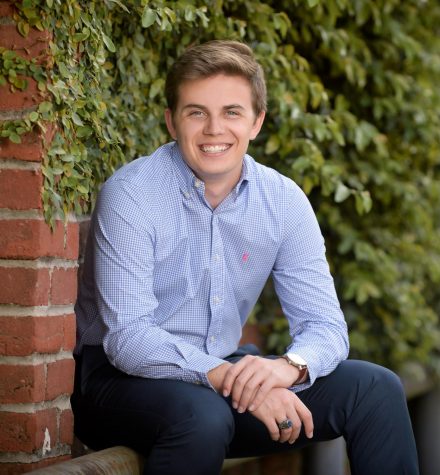 Noah Domangue, Online Managing Editor
My name is Noah Domangue, and I am just a History major who loves to laugh and hang out with his friends. I also really enjoy sports and video games. I...