Nicholls honors the achievements of alumni
On Mar. 23, Nicholls State University honored the achievements of Nicholls alumni and community during the annual Awards for Excellence ceremony presented through the Nicholls Alumni Federation. 
At this ceremony, the Federation honored the 2022 Hall of Fame recipients, some of which were students who graduated last semester. Upcoming graduating seniors were also honored. There were four major award winners and outstanding graduates from each college and the culinary institute.
The 2022 Hall of Fame recipients were Mohammad AbdelFattah, Erin Baudoin, Grace Anne Clement, Edie Delaune, Collin DeSandro, Jacob Hagen, Amanda Hankenhof, Ethan Henry, Tristan Wong, Madison Liner, Reay Lodrigues, Ana Martinez, Megan Moss, Ethan Naquin, Aarati Pant, Ashlyn Sutton, and Tabitha Tabb. 
In order to become a part of the Hall of Fame, exemplary students are nominated by faculty and selected by a committee of faculty, staff, and students. Those who have earned entrance into the Nicholls Hall of Fame have demonstrated distinguished scholarship and meritorious service. These recipients reflect approximately 1% of the combined graduating class for this year. 
The Corporate Mark of Honor recipient was The Giardina Family Foundation, which has given Nicholls over two decades of their time, treasure, and talent. They have given to areas across campus including the Dyslexia Center, Nicholls Foundation, and so many more organizations. It is this level of dedication that prompted Dr. Jay Clune to select them to receive such an award. 
This award is typically presented to an organization that has proven to be a strong supporter of Nicholls and its mission. The university president, Dr. Jay Clune, selects the recipient of this award. 
Maria B. Cruse, MD., received the Honorary Alumni Award and has been very involved with the Chef John Folse Culinary Institute. Dr. Cruse has been a Thibodaux psychiatrist for over 25 years and has been an avid supporter of Nicholls. She had a key role in the creation of the Culinary Guild, and was named an honorary culinary faculty member in 2011. 
The only criterion for the Honorary Alumni Award is that the recipient be a non-graduate of the university who has shown special interest in and has given their time to Nicholls State University. Nominations for this award may come from the President, Vice Presidents, Deans, Department Heads, and/or the Alumni Federation Board. 
The highest award given to a graduate of Nicholls is the James Lynn Powell Award, which was given this year to Michael J. Hebert, Jr. Hebert is the chief of the U.S. Customs and Border Protection (CBP) and the National Jones Act Division of Enforcement (JADE). He has spent over three decades in federal service, including nine years in the military. He returned to Nicholls from 2015 to 2018, and served as an adjunct instructor of petroleum engineering, safety technology management, and criminal justice. 
Nominations for the James Lynn Powell Award may come from the President, Vice Presidents, Deans, Department Heads, Alumni Federation Board, and/or previous James Lynn Powell recipients. They must be considered outstanding in their chosen field, support the university, and support and contribute to the Alumni Federation. 
The highest award given to a non-graduate of Nicholls is the Harvey Peltier Award. This award has almost the same criteria as the James Lynn Powell Award, but the recipient must contribute to the university and the community and cannot be a graduate of Nicholls. This year's recipient was Mr. and Mrs. Salvador M. Brocato, III. Their support of Nicholls began in 2017 when their son, Dominic, joined the Nicholls Football team. Through the amazing footprint they have left across campus, their passion for Nicholls shows. They were the first to donate to the Boucvalt Family Athletic Complex Naming Campaign in 2020, and they have made remarkable contributions to other programs such as Nicholls Police, the maritime management program, and the Chef John Folse Culinary Institute. 
In addition to the four Awards for Excellence winners, outstanding graduates from each college were also honored during this ceremony. The recipients were from the following colleges: the College of Liberal Arts was Elise Blanchard; the College of Sciences and Technology: Drs. Jeremy Rau, Jeffrey Rau, Bryan Rau, and Nicholas Rau; the College of Business Administration: Travis Brown; Chef John Folse Culinary Institute: Chef Nicholas Landry; the College of Education and Behavioral Sciences: Tanya Breaux; and the College of Nursing: Diann Hebert. 
Though these awards date further back, Nicholls has held these ceremonies since 1972, and at this year's ceremony, the very first James Powell Award recipient, Frank Simoneaux, was surprised with a formal award after reaching out to say he misplaced his original. Almost 200 guests attended the ceremony, including Nicholls administration, faculty, people from the community, and the families of the award recipients. 
Director of Alumni Affairs, Katherine Mabile, said, "As a university, we wouldn't be where we are today without our alumni and our community and the support they give us. We are blessed to have these men and women who continuously give to our institution and it's an honor for us to recognize them at this award ceremony for their many contributions throughout the years."
"I want our Hall of Fame graduates to know that these award recipients, the outstanding alums in each college, all of these awards—I'm hoping it will be them one day. Whenever you graduate, it's not just four years, it's for life. You will forever be a part of Nicholls history. You're forever going to be a part of this institution. We want them to come back, to share their ideas, their feedback, and their life experience with us, so they will always be a part of this family. I hope they come home to Nicholls often, and that they stay in touch and stay connected." 
Leave a Comment
About the Contributor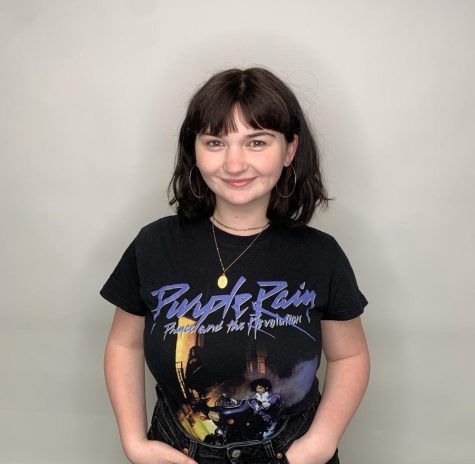 Evan Cressoine, Online Managing Editor
My name is Evan Elizabeth Cressoine. I'm a junior here at Nicholls, from Houma, studying creative writing. Above all, I am a storyteller. I've been...