Mariia Kozachok: Student in Ukraine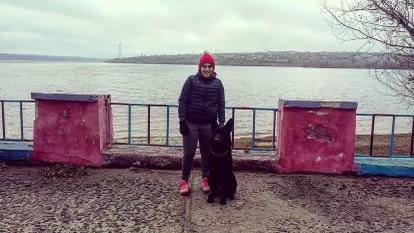 Mariia Kozachok is an international student at Nicholls State University—and has been since 2016— who is currently studying online from her family's home in Dnipro, Ukraine, about a five hour drive from Kiev, in pursuit of an MBA. She had gone to check on her house and visit her family back in Dec. 2021, after not having seen them since before the pandemic. She had a plane ticket that was set for her to return to the U.S. on March 9. However, the Russian invasion of Ukraine began at 5 a.m. on Feb. 24 and made it impossible for Kozachok to leave. 
These last few weeks have been frightening for Kozachok, who spoke of explosions happening during her Zoom meetings for class. 
"I had to let my professor know that I was going to the basement. When I asked if he had heard the explosion, he said 'I didn't hear the explosion, I saw your face,'" Kozachok said. 
According to Kozachok, it is difficult for Ukraine citizens to predict what will happen in the days to come. Russia has not been able to invade much on the ground because of Ukraine's army defense. However, they have frequently attacked from the sky, so they cannot predict when it will happen again.  
For Kozachok, daily life has grown very different. From hearing bomb explosions in the middle of the night to watching buildings in her city fall to the ground, life has become a much more precious thing for her. She has been scared to go outside, but her father often encourages her to go into their backyard and find things to occupy her time. In an effort to cope with the emotional stress, Kozachok tries her best to concentrate on schoolwork and read books. 
"I am very grateful that Nicholls is letting me continue classes online," Kozachok said. 
At the beginning of the attacks, Kozachok said she knows she is not the only Ukrainian who no longer kept track of what day of the week it was—only what day of the war it was. 
Kozachok has a boyfriend waiting for her back in Thibodaux who is worried for her and wishes that she could return. 
"He says that when I get back he wants to marry me, which is very sweet!" Kozachok said. 
They have had conversations comparing this crisis to experiencing the aftermath of a hurricane. To this Kozachok stated that, while you may not know if your house will be there when you return, at least you know that you will be alive. The truly scary and tragic part about what the people of Ukraine are facing, according to Kozachok, is not knowing if they will be alive in the next thirty minutes. 
Before the attacks began, Kozachok said her boyfriend had warned her that troops were lining the border and that she should leave, but she explained that no one expected this to happen. Troops had been on the border for years, so no one saw this coming. Kozachok said she knows of only a couple of her friends that were able to evacuate. 
During this trying time, Kozachok found a certain quote that resonated with her: "It does not matter what clothes you are wearing if you're sitting in the basement, it doesn't matter what car you drive if you can't go anywhere, all that matters is who is by your side." 
This situation, Kozachok said, has really shown her who her true friends are. People she expected to text her on a daily basis have not reached out to her, yet those she never would have thought would text her have reached out almost every day. 
For Kozachok, and most Ukrainians, priorities have changed completely. Now they understand that nothing is more important than life itself. 
"If you are alive, you can do anything. You can work to make money to buy the house you want, the car you want, but you cannot buy a new life. Life is the most important thing. Come to Ukraine and you will understand that life is the most important thing," Kozachok said. 
Whenever she would tell people she was Ukrainian, they would tell her that she was "basically Russian."  
"Now, do not call me Russian, I am Ukrainian," Kozachok said. 
Kozachok is surprised to see the world supporting the Ukrainians. She knows of a girl from her city who lives in New York and is collecting humanitarian aid for Ukraine. If anyone at Nicholls would be willing to help and send care packages and humanitarian help to Ukraine, Kozachok shared an address that is collecting: 19 Gogol St., Dnipro, Ukraine 49044, Compass Office. Anyone can send things through Meest Express for $2.30/lb which is a Ukrainian service that is currently accepting humanitarian aid packages. 
Kozachok remains hopeful and plans to return to Nicholls campus whenever she can. 
To see the full interview with Kozachok, visit the KNSU TV YouTube Channel. Or visit https://www.youtube.com/watch?v=YBaoI1OXWoo
Leave a Comment
About the Contributor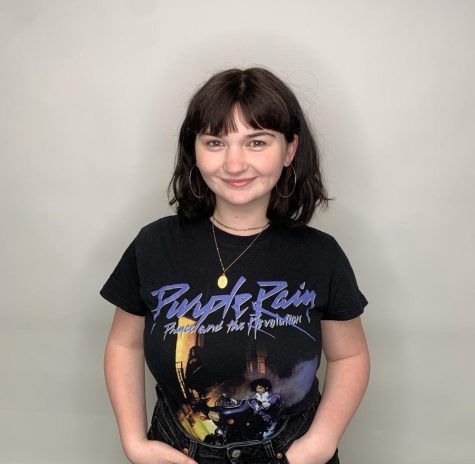 Evan Cressoine, Online Managing Editor
My name is Evan Elizabeth Cressoine. I'm a junior here at Nicholls, from Houma, studying creative writing. Above all, I am a storyteller. I've been...