Senior Spotlight: Cade Evans
Pitcher Cade Evans is in his senior season and third year at Nicholls State University. Evans is getting his MBA while playing baseball for the Colonels. Evans is from Chattanooga, Tenn., and he found his way to Nicholls after short stints at the University of Auburn and Chattahoochee Community College.
Baseball runs in the Evans family, which led to his original fascination and eventual love for the sport. "I've always been a fan of my grandfather. He's in the Hall of Fame for the University of Florida," said Evans. "My cousins played baseball for Tennessee. I would have been the first kid in my family to not play college baseball, so it's always been [in the] family."
Evans' dad, another family member that means a lot to him, is also the person he looks up to. "When times get tough, he (dad) picks up the slack. He's always there, and is a great role model for me," said Evans. He gave thanks to his dad for the person he has become today.
As one can tell, people are very important to Evans. He credits a few people for helping him transition to a new school when he first came to Nicholls. "Adam Tarver—he was a senior when I got here—he really took me in, and Dane Simmons who is my best friend on the team." 
Freshman pitcher Jordan Thompson explained that the welcoming spirit shown to Evans truly rubbed off on him. Thompson describes Evans as the guy who helped him feel at home. "He is a very welcoming guy. Being a freshman, Cade took me under his wing and made sure I was good, and if I ever needed anything, I knew he was there for me," said Thompson.
Thompson also took time to praise Evans' character. He believes Evans is a very caring person, and is there for everyone, both on the team and in his life, that need him.
When it comes to playing, he tries to take notes from Mike Trout, a player he looks up to. Evans describes him as a player who can do everything on the field, and do it the right way. Evans may not play the same position as Trout, but he still admires the play style of another athlete he considers to be one of the greats.
Evans is finishing up his MBA while at Nicholls and has big plans for the future. "I want to either be an athletic director or a coach," Evans said.
Evans will take the field starting Friday, Feb. 18 at 6:00 p.m. for his final opening series, playing against Missouri at home at Ben Meyer Diamond. Come cheer on Cade Evans and the Colonels.
Go Kerns!
Leave a Comment
About the Contributor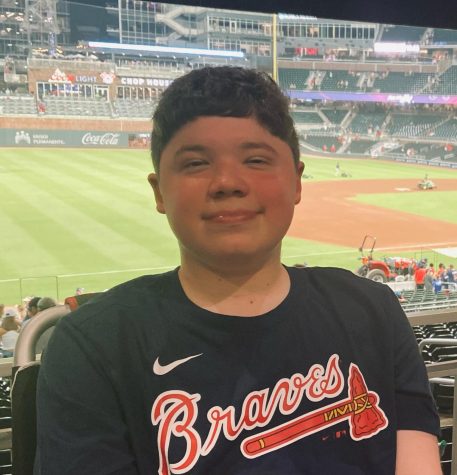 Brogan Burns, Sports Editor
I'm a Mass Communications major and a huge Saints fan. I'm from Chalmette, and I haven't seen my dog in a month.

Fun Fact: I've listened to the...