"8-Bit Christmas" Review
It is officially time for Christmas! This time of year comes with tons of great things, but the best part of the Holiday Season is Christmas movies. 
Although most years are consumed with watching the same five to ten movies that we have been watching for the last decade or longer, this year may be different due to the latest great Christmas movie, "8-Bit Christmas." 
"8-Bit Christmas" is a fun, entertaining movie that is great to watch with the family, as it is rated PG. 
This film is all about a father, Jake Doyle (Neil Patrick Harris), telling his daughter, Annie Doyle (Sophia Reid-Gantzert), the story of a Christmas of his youth and his quest to get a Nintendo. 
With shades of "A Christmas Story," Doyle's story is about a starstruck child obsessed with getting only one thing for Christmas despite every adult in his life telling him that it is a bad idea; however, instead of desiring a Red Ryder BB-gun like Ralphie Parker, Jake Doyle wanted a Nintendo gaming system. 
Set in 1987, the film was fun and family themed, as it was a cute depiction of an eleven year old boy doing everything in his power to get the toy of his dreams, including: making friends with bullies, entering contests, selling wreaths, combining money with his best friends and sneaking off during a field trip!
Combine this quest with a dysfunctional family dynamic featuring a father, John Doyle (Steve Zahn), that is obsessed with tools and home renovations and a mother, Kathy Doyle (June Diane Raphael), that is a compulsive coupon shopper, and you get a hilarious chain reaction. Additionally, we cannot forget about the little sister, Lizzy Doyle (Bellaluna Resnick), who spends her days tormenting her older brother, the young Jake Doyle. 
This movie is pure '80s, as it is filled with the idea of "boys being boys" and that kids should be outside 24/7. 
I would highly recommend this film to any family that is looking for something new this Christmas, and I fully believe that this film has the humor and entertaining element to be a staple of the Holiday Season for a long time to come.
Personally, I viewed this film with my family, and my parents loved seeing different toys and themes from their childhood, like the Powerglove and kids roaming the streets on bicycles without any parental supervision. My father uttered the phrase "Yep…that was the '80s" a few dozen times, and I think this would be a great family film to view with your parents and grandparents that were around during the 1980s!
Leave a Comment
About the Contributor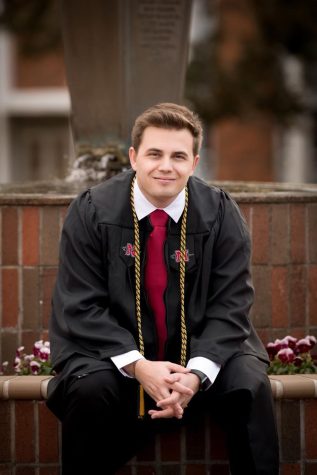 Noah Domangue, Advertising Manager
My name is Noah Domangue, and I am just a History major who loves to laugh and hang out with his friends. I also really enjoy sports and video games. I...