Adele's return to stage on "One Night Only" special
Adele returned to the stage at the Griffith Observatory in Los Angeles last night, Nov. 14, for a one-night-only performance, debuting songs from her upcoming album, "30."
The songwriter and singer's last album, "25," was released in 2015; she has kept her fans wanting more ever since. The special "One Night Only" featured a pre-recorded interview with Oprah Winfrey in between performances of older songs and four songs from the new album. 
Adele opened up performing the first song of her new album and the only one that has been released, "Easy on me." She later closed the concert with "Love is a Game."
The performance of every song was breathtaking and incredibly emotional. The singer was wearing a black mermaid-tail dress that made her look like the real queen that she is. She was accompanied by an orchestra that was dressed up in all white, as this gave the evening a very elegant touch. 
She welcomed everyone and explained that she wanted to debut this album to her celebrity friends and perform it live for the first time in a safe space. The guest A-list featured Lizzo, Melissa Mccarthy, Selena Gomez, Gordon Ramsay and James Corden among others. 
"30" is an album where Adele has no filter. Her writing is vulnerable and raw. After dealing with her recent divorce, the artist has had to relearn how to love herself and put the pieces back together. The album is dedicated to her nine-year-old son, Angelo. When he grows up and begins to wonder what happened with his parents, he will be able to go back to this album and hear what his mother went through. 
During the interview, Adele expressed how devastating the realization of her unhappiness was. It took her a while to realize that she was not happy with her marriage, and it was not until she said it out loud to her friends a few years back that she realized that it was time to take control over the situation. 
Winfrey touched base with other personal issues surrounding Adele over the last couple of years. One of them was her weight loss and how fans reacted to her losing over 100 pounds. The singer expressed that she was not shocked at people's reactions to her weight loss because her body has been objectified her entire career. She began to exercise a lot because it helped her control her anxiety after the divorce. 
"It is not my job to validate how people feel about their bodies," Adele said. 
She expressed that she was body positive then, and she continues to be body positive now. Adele said that she was trying to pull her life back together, and that she is not worried about her weight fluctuating in the future. 
They also spoke about how Adele's past has influenced her songwriting and her relationships. The fact that her father had little presence in her life while growing up left plenty of open wounds that she did not deal with until later in her life. 
The two-hour special was a night filled with elegance and a debut of the upcoming album, "30," which will be released on Nov. 19; "Adele One Night Only" is available for streaming on Paramount+. 
Leave a Comment
About the Contributor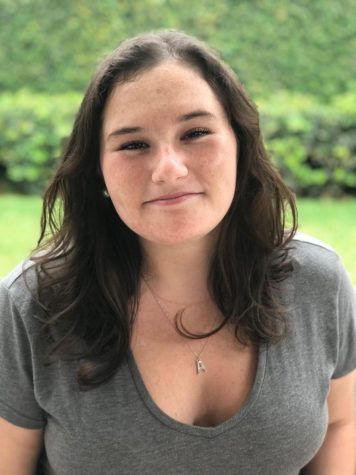 Alexia Castellon, Print Managing Editor
My name is Alexia Castellon. I'm a Mass Communication senior with a concentration in PR. I was born and raised in Nicaragua, and I am fluent in Spanish...