"Pelican State Goes to War" exhibit travels to Nicholls
From Nov. 1 to Dec. 15, the Ellender Memorial Library is hosting the "Pelican State Goes to War" exhibit in the Nicholls Archives on the first floor. This exhibit is open from 8 a.m. to 4:30 p.m. every weekday, and all students and residents of the bayou region are encouraged to check it out. 
Several years ago, the National World War II museum in New Orleans created this traveling exhibit to honor Louisiana's role in the war. 
Nicholls State University's Department Head of History, Paul Wilson, was a member of the committee tasked with creating the exhibit. While they originally planned to host this exhibit here at Nicholls a couple years ago, the COVID-19 pandemic and Hurricane Ida caused it to be postponed twice. However, after trial and tribulation, the exhibit is here and has already had over 200 visitors. 
The purpose of the "Pelican State Goes to War" exhibit is to allow the community to celebrate our state's significant contribution to the Allied victory of World War II. 
"Louisiana had an incredible role in the war effort, and this exhibit is here to recognize the extraordinary efforts of the men and women who made our state, our country and our world a better place," Wilson said.
This exhibit displays all sorts of artifacts and information concerning Louisiana's involvement in the war. From uniforms of sergeants and fighter pilots to medals, badges and armbands, visitors will get a good look of Louisiana's war history. A history that many may not entirely know of. 
When it comes to World War II, Louisiana held the Louisiana Maneuvers of 1941, the nation's largest military war games until that time. This was to help prepare the military for new forms of warfare like mechanized forces such as tank divisions and air force formations. Louisiana also had numerous training camps in central and north Louisiana for infantry and pilots. 
The war, in return, had a fairly significant impact on Louisiana. World War II took the state out of the Great Depression and threw it into a more urbanized and modernized era with a diverse economy. The events also prompted citizens, more specifically African Americans and women, to embrace reform movements that challenged inequality. 
All of this and so much more awaits at the "Pelican State Goes to War Exhibit." It is a self-guided exhibit, but group tours are also available; donations are certainly encouraged. In the front of the exhibit lies a donation box, accepting donations so that similar programs can be brought to campus in the future. 
The National World War II Museum has multiple traveling exhibits that the committee would like to bring to the university. However, this committee must cover all shipping and installation costs, and these donations go into an account to promote student success. 
Several student interns are working as tour guides in this exhibit, further enriching their academic experience with hands-on training. This experience will allow them to earn a Certificate in Public History and prepare them for future careers in Public History as well. 
Students visiting the exhibit may agree that the display provides a beautiful memorial of heroism, and it is also educational to explore our state's role in World War II. 
Be sure to visit the "Pelican State Goes to War" exhibit on the first floor of the Ellender Memorial Library before the semester ends. Group tours are available with a student tour guide or Paul Wilson, who will be happy to meet with anybody in the Nicholls Archives and discuss Louisiana in World War II.
Leave a Comment
About the Contributor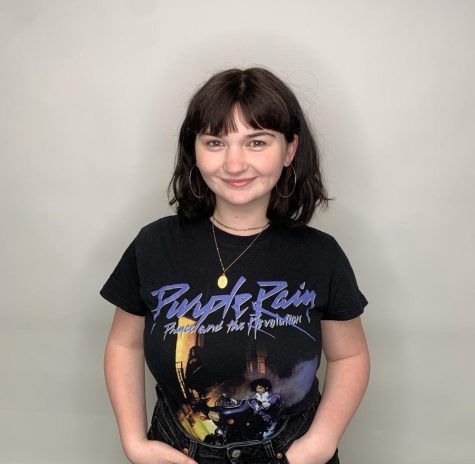 Evan Cressoine, Online Managing Editor
My name is Evan Elizabeth Cressoine. I'm a junior here at Nicholls, from Houma, studying creative writing. Above all, I am a storyteller. I've been...